Thai islands
Thailand can boast a large number of islands and national parks spread between the Gulf of Siam and the Andaman Sea. All the information on islands to discover absolutely.
When to Visit the Thai Islands
Determining the ideal time to explore the Thai islands largely hinges on your personal preferences and the activities you wish to indulge in. Generally, Thailand experiences three distinct seasons:
Dry Season (High Season):
The period extending from November to February stands out as the prime time to visit the Thai islands. During this period, the weather remains predominantly dry and less humid, with cooler temperatures, creating favorable conditions for outdoor adventures, swimming, and sightseeing.
March through May marks Thailand's hot season, characterized by high temperatures and increased humidity levels. If you thrive in warmer weather and prefer less crowded beaches, this season may be your preferred choice.
Rainy Season (Low Season):
From June to October, Thailand enters its rainy season, characterized by frequent showers and occasional heavy downpours. Some islands may become less accessible during this period, and water-related activities could be restricted. Nevertheless, there are fewer tourists, and prices for accommodations and activities tend to be more budget-friendly.
It's important to remember that the climate can change from one island to another in Thailand due to their geographical position. For example, the islands on the west coast of Thailand (Phuket) often have different rainy seasons to those on the east coast (such as Koh Samui and Koh PhanGan).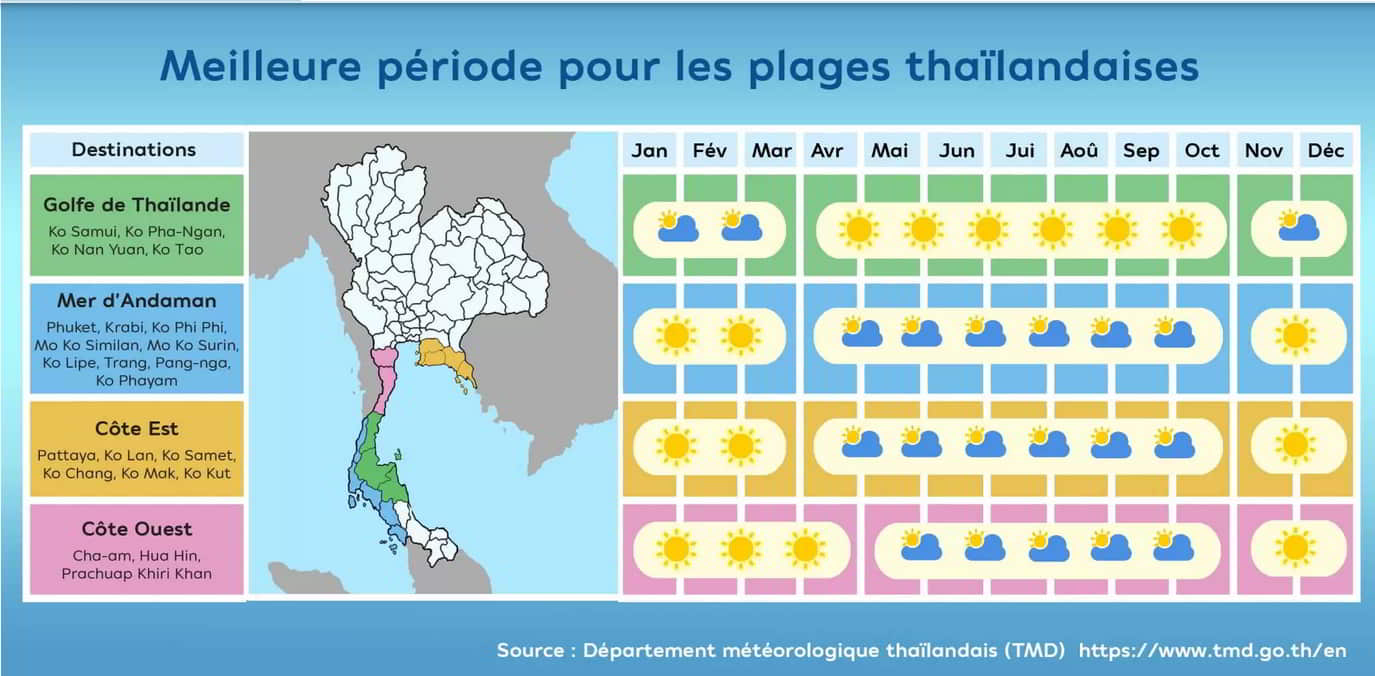 Exploring the cost of living on the Thai Islands
Understanding the cost of living on the Thai islands involves considering several key elements:
Typically representing approximately 30% to 50% of your overall budget, accommodations on the Thai islands span a range of options. Budget-conscious travelers can find youth hostels for €15 to €30 per night, while those seeking luxury may encounter higher costs.
Accounting for around 25% to 35% of your total expenses, dining on the Thai islands offers a variety of choices. Local restaurants and street vendors provide budget-friendly meals, typically priced between 5 to 10 euros per dish.
Usually constitutes about 10% to 20% of your overall budget. Transportation costs fluctuate depending on the distance and mode of travel chosen.
Comprises approximately 10% to 20% of your total expenses. Activity costs vary based on individual choices, such as guided tours, boat trips, and the like.
Beverages and Entertainment:
Typically represents around 5% to 15% of your overall expenses. Local beverages tend to be more economical than imported alcoholic drinks.
Please note that these percentages are approximate and can significantly vary depending on your personal preferences and the duration of your stay.
Thai Islands in the Andaman Sea
Khao Phing Kan
Koh Bulon
Koh Kradan
Koh Lanta
Koh Laoliang
Koh Lipe
Koh Muk
Koh Ngai
Koh Turatao
Thai Islands in the Gulf of Thailand
Koh Kut
Koh Lan
Koh Mak
Koh Phai

As a complement