Railay Beach: Your Gateway to a Thai Paradise
Railay Beach stands as one of Thailand's most exquisite destinations, with its heavenly beaches, crystal-clear turquoise waters, imposing karst cliffs, and an idyllic setting. Here, you'll find all the information necessary to fully embrace this slice of paradise.
Name in Thai : หาดไร่เลย์
Distance from Bangkok : 820 km
Distance from Ao Nang Beach : 20 min by boat
Sea : Andaman Sea
Province: Krabi Region
Main activity: Tourism.
High tourist season: Mid-November to April
Best time to travel: January - February
Number of days on site: 3 days.
Main attractions : The scenery with limestone cliffs, beaches and surrounding islands.
Railay Beach, the unique features of a special destination
Railay Beach, situated just a short 20-minute boat ride from Ao Nang Beach, may seem close by, but it offers a truly isolated experience. This pristine destination is encompassed by towering karst cliffs, and it's divided into three distinctive areas:
Railay Beach West: Your point of arrival, featuring a spacious beachfront with an array of shops and restaurants.
Railay Beach East: A haven for rock climbing enthusiasts, attracting climbers from around the globe thanks to its unique setting.
Phra Nang Cave Beach: Among Thailand's most enchanting beaches, renowned for its breathtaking sunsets and unforgettable scenery.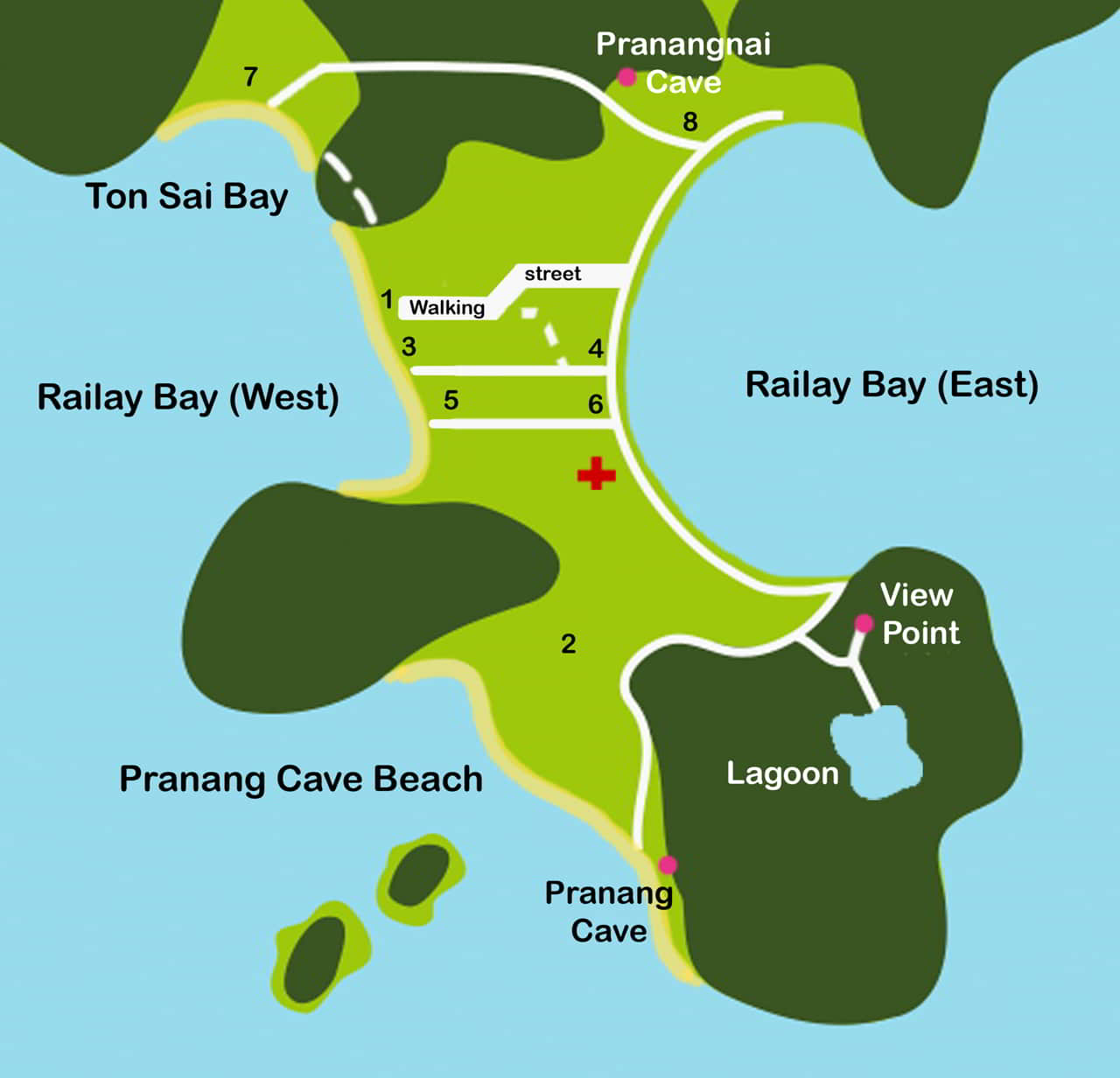 Railay Beach Hotel Selection: Finding Your Ideal Accommodation
Things to see and do at Railey Beach
How to get to Railay Beach ?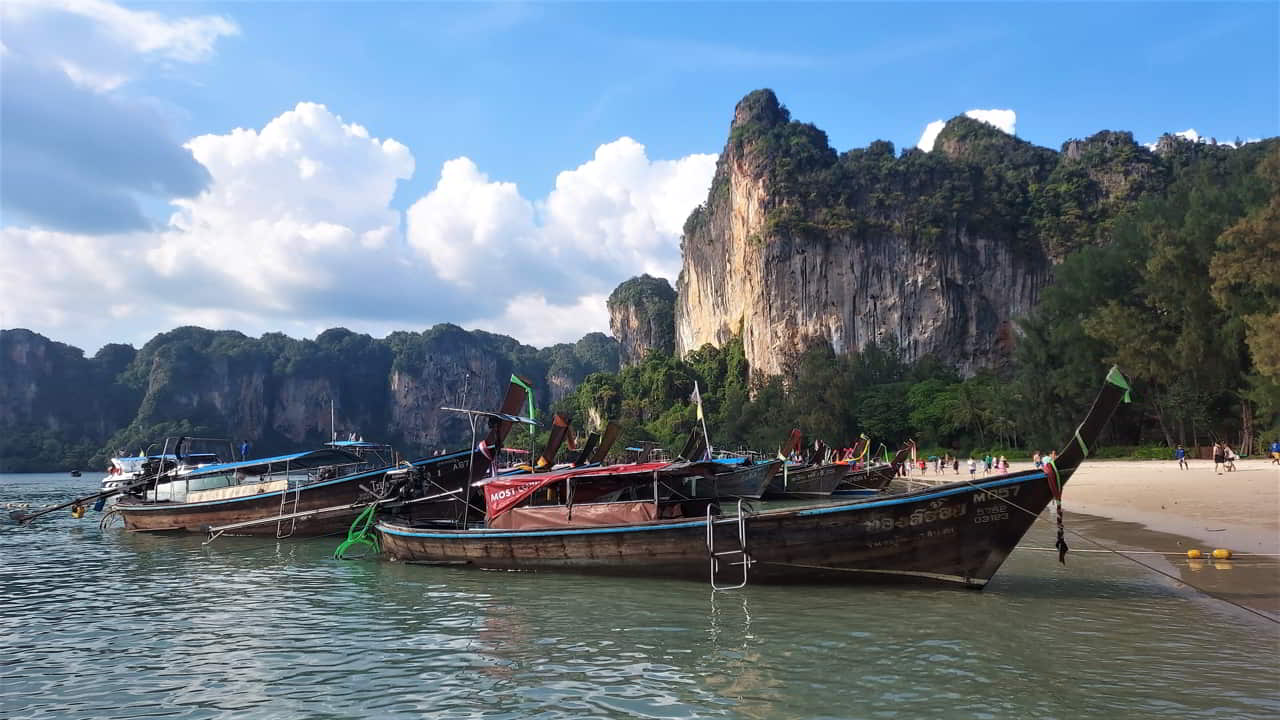 To reach Railay Beach, you can board a passenger boat (known as the Hua Tong boat) departing from the shores of Ao Nang and Noppharat Thara beaches. The fare is 100 baht per person for a one-way trip, which takes approximately 20 minutes. These boats operate from morning to night, providing convenient transportation options throughout the day.
How to get to Krabi
Islands around Railay Beach
Best time to visit Railay Beach and seasonal activities
Average temperature and rainfall on Railay Beach
The southern regions of Thailand are frequently subjected to more pronounced monsoon impacts compared to the capital city. Here is some information regarding rainfall patterns and temperatures in this area:
| | Precipitation (Ml) | Number of days with rain | Mean temperature |
| --- | --- | --- | --- |
| January | 15 | 3 | 27 |
| February | 19 | 2 | 30 |
| March | 48 | 5 | 29 |
| April | 106 | 8 | 30 |
| May | 216 | 14 | 30 |
| June | 215 | 14 | 29 |
| July | 217 | 15 | 29 |
| August | 231 | 16 | 29 |
| September | 281 | 18 | 29 |
| October | 298 | 19 | 28 |
| November | 153 | 12 | 28 |
| December | 60 | 6 | 28 |
Activities according to season
Railay Beach offers a variety of activities depending on the time of year you visit.
Activity during the rainy season at Railay Beach
During the rainy season from May to October, despite occasional rain, water sports enthusiasts can enjoy calmer waters for kayaking and snorkelling. This period also offers lower hotel rates and less crowded beaches, making it a peaceful time to relax.
Activity during the dry season at Railay Beach
The dry season from November to April is perfect for swimming, sunbathing, and enjoying the sunny and dry weather. November to April is also the peak climbing season, with various competitions and events held on the famous cliffs of Railay Beach.
Don't miss the Loy Krathong festival in November, which offers traditional Thai celebrations with floating lanterns.
Special musical and cultural events sometimes take place on the beach during the dry season, so check local calendars for exact dates.
Lastly, if you visit in April, you can participate in the Thai New Year celebrations, Songkran, which involve water fights and lively festivities.