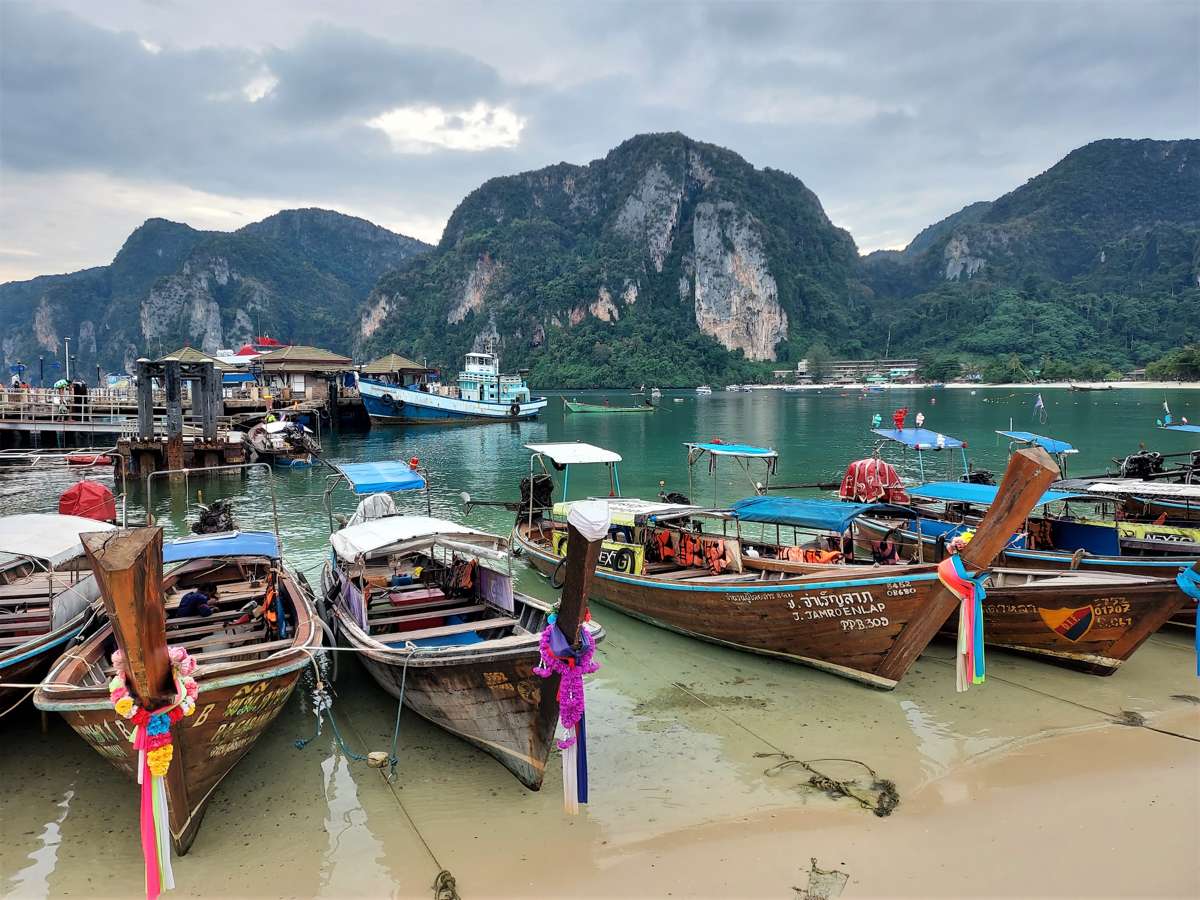 Koh Phi Phi Transport Guide: How to Arrive and Depart
To organize itself at its best and optimize its stay on Koh Phi Phi, one should gather all the information on transportation to arrive and depart from Koh Phi Phi.
Koh Phi Phi, also known as the island of spirits, is a beloved destination for many tourists. Its crystal-clear waters, dreamy scenery, and festive atmosphere contribute to its popularity.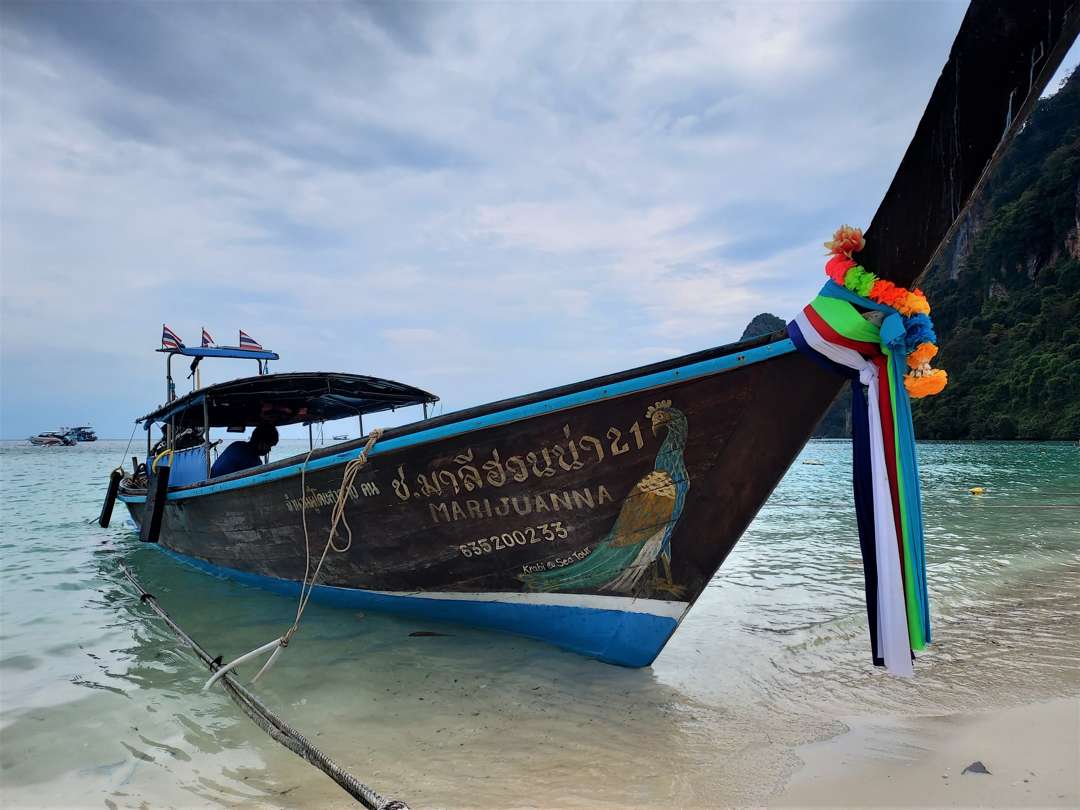 How to get to Koh Phi Phi?
By air:
There are various ways to reach Koh Phi Phi, but the most convenient and preferred mode of transportation is by air. Krabi airport is the closest airport to Koh Phi Phi and is well-connected by local and international airlines. Upon arrival at Krabi airport, visitors can hire a taxi that takes around 30 minutes to reach the Krabi jetty. From there, visitors can board a ferry to Koh Phi Phi.
Apart from air travel, one can also reach Koh Phi Phi by bus, taxi or car from nearby towns and cities. However, the journey can be time-consuming and tiring, and visitors may have to take multiple modes of transportation
Bus:
Visitors can also travel to Koh Phi Phi by bus, which is a cost-effective option. There are regular bus services available from Bangkok and other cities in Thailand to Krabi. From Krabi, visitors can take a ferry to Koh Phi Phi. The journey by bus can be long and tiring, but it offers a unique opportunity to explore the scenic beauty of Thailand. Visitors are advised to book their bus tickets in advance to avoid any last-minute hassles.
Car:
Visitors can also opt to drive to Krabi and park their car at the pier before taking a ferry to Koh Phi Phi. While driving to Krabi can be a scenic journey, it is important to note that it can take several hours from major cities such as Bangkok, and visitors need to be aware of the traffic and road conditions. Visitors are advised to pre-book their parking spot at the pier to avoid any inconvenience upon arrival. Additionally, it's important to note that cars are not allowed on the island of Koh Phi Phi, and visitors will have to rely on other modes of transportation, such as walking or taking a boat to explore the island.".
Ferry:
Ferries are the most popular and picturesque way to reach Koh Phi Phi. They operate regularly from Krabi pier, which is about a 2-hour journey, or from Phuket town, which takes about 2.5 hours. Ferry services are available throughout the year, but it is recommended to book in advance, especially during the peak tourist season, to avoid last-minute inconveniences.
Visitors can check the ferry schedules and book their tickets online or at the pier. It is important to note that the ferry timings are subject to change based on weather conditions, and visitors are advised to keep themselves updated on any changes. The journey on the ferry is scenic, and visitors can enjoy the breathtaking views of the Andaman Sea during the journey.
Speedboat :
Speedboats are a faster, but more expensive option for getting to Koh Phi Phi. They leave from the Krabi or Phuket jetty and can be booked online.
Speedboats are, as the name suggests, fast boats… very fast. These boats are therefore recommended for people who can tolerate the noise and especially the bumps. Indeed, at high speeds, they can hit the waves hard. Therefore, pregnant women and small children are not allowed to take a speedboat.
When boarding the boats, it's strongly advised to carefully check the location of your hotel before embarking. If it is not located near the main port, it's recommended that you inform the ship's captain.
Pier for departure or arrival on Koh Phi Phi
The pier for departure or arrival on Koh Phi Phi is located at Tonsai Bay. The harbor is the heart of the town. However, there are other secondary landing stages to reach more isolated places
As in many islands, it's compulsory to pay an entry/stay tax of about 10 baht. The tax is intended to finance the cleaning of the island…
Transport timetables and prices
Please note that sailing times and days may vary according to weather conditions. Also, the frequency of ferries decreases in low season.
From/to Phuket
From/to Krabi
From/to Koh Lanta
From/to Trang
Our advice for tours
Our advice for tours is to take your time and cross-check information by reaching out to multiple contacts. Make sure to take note of the main details before you depart, such as the price per person, the minimum duration of the tour, which sites will be visited, and whether or not equipment is provided.
Upon arrival in Koh Phi Phi
Once you have disembarked, you can walk to your hotel. The island is not large and has no public transport. There are almost no vehicles except for the "side-cars" made in Thailand! Some hotels send staff to pick up their guests' luggage… but not all hotels.
On arrival, you can also find luggage porters who can carry your luggage to your hotel for a small tip.