Essential Guide to Kanchanaburi: Attractions, Tips, and More
Uncover the charms of Kanchanaburi with our concise guide, spotlighting must-see attractions and providing practical tips for a memorable visit.
Name in Thaï : กาญจนบุรี
From Bangkok : 160 km
Population : 52 000 habitants
Province : Kanchanaburi
Main River : Kwai
Main Activity : tourism
High season : Mid-December - Mid-June
Recommended visit time: 2 days minimum
When is the best time to visit Kanchanaburi?
Kanchanaburi experiences favorable weather throughout the year. Similar to the rest of Thailand, the region witnesses a dry season from mid-December to April and a rainy season from mid-June to the end of November.
Each period has its pros and cons. The dry season sees a significant surge in tourist numbers, while the opposite holds true during the rainy season. Consequently, hotel prices may vary between these two periods. However, it's worth noting that towards the end of the dry season, the water level in the Erawan waterfalls can decrease considerably, diminishing the spectacular nature of the falls.
Kanchanaburi: To see and to do

Kanchanaburi - Transport
how to get to Kanchanaburi
How do you get around Kanchanaburi?
For those staying in the city, walking remains the best way to visit. Hiring a bike or scooter is also a very good option. Many attractions are within easy reach. However, the best way to get to the Erawan waterfalls is by bus.
There is also a whole network of songthaew and tuk-tuk offering tours of the area. As always, you can also use Bolt or Grab via apps.
Finally, the most practical option is undoubtedly car hire. You're on your own and can plan your own route in complete freedom.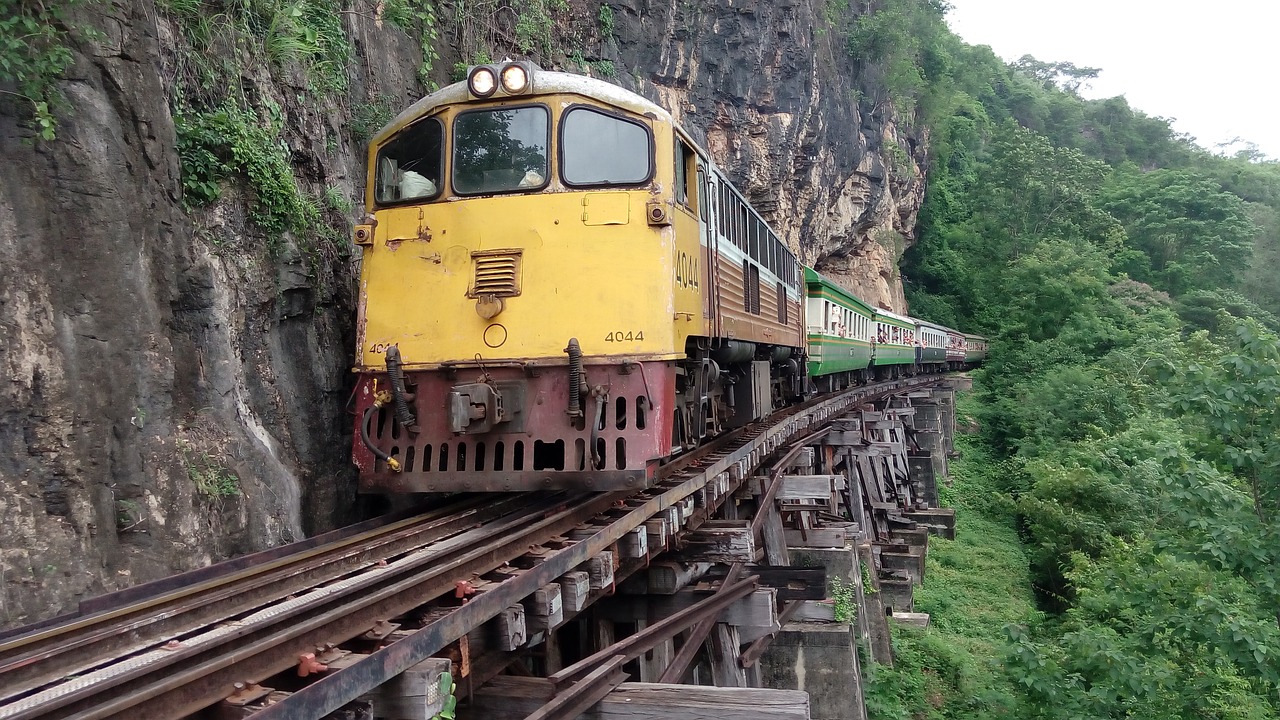 Questions about Kanchanaburi
Here are some common questions about Kanchanaburi.
Is the Bridge on the River Kwai a historic site or a tourist attraction?
The Bridge on the River Kwai, a locale steeped in history and drawing significant tourist interest, serves as a testament to its construction by prisoners of war during the Second World War. Today, it stands as a poignant memorial to that pivotal era.
Is Kanchanaburi a dangerous city?
Kanchanaburi is typically a safe city for tourists. However, as is the case in any destination, it's prudent to exercise additional caution during festive periods like New Year's Day and Songkran. Thailand, in general, experiences a relatively high number of road accidents, making it essential to stay vigilant when traveling, whether by car or two-wheeler.
When is the best time to visit Erawan National Park?
The ideal time to explore Erawan National Park is generally from mid-November to early March.
There are two main reasons for this recommendation: firstly, this is when the waterfalls reach their optimum flow, offering a breathtaking spectacle. In addition, the trails are more practicable because they are less slippery during this period.
Emergency Numbers in Kanchanaburi
Being aware of emergency numbers in Thailand is essential for your safety and the well-being of others. Here are some vital numbers to keep in mind:
191 for police and emergencies:
This is the primary number to remember. In case the operator doesn't speak English, you can dial 1155 to reach the tourist police, available 24/7 with English-speaking operators.

1669 for public ambulance:
This number connects you to the public ambulance service, dispatching a vehicle promptly to the scene if needed. In urban areas, the average response time is around 10 minutes.

199 for fire emergencies:
Dial this number in case of a fire emergency to summon the fire service.

1193 for road police:
This number is invaluable in the event of a breakdown or a hazardous situation on the road.