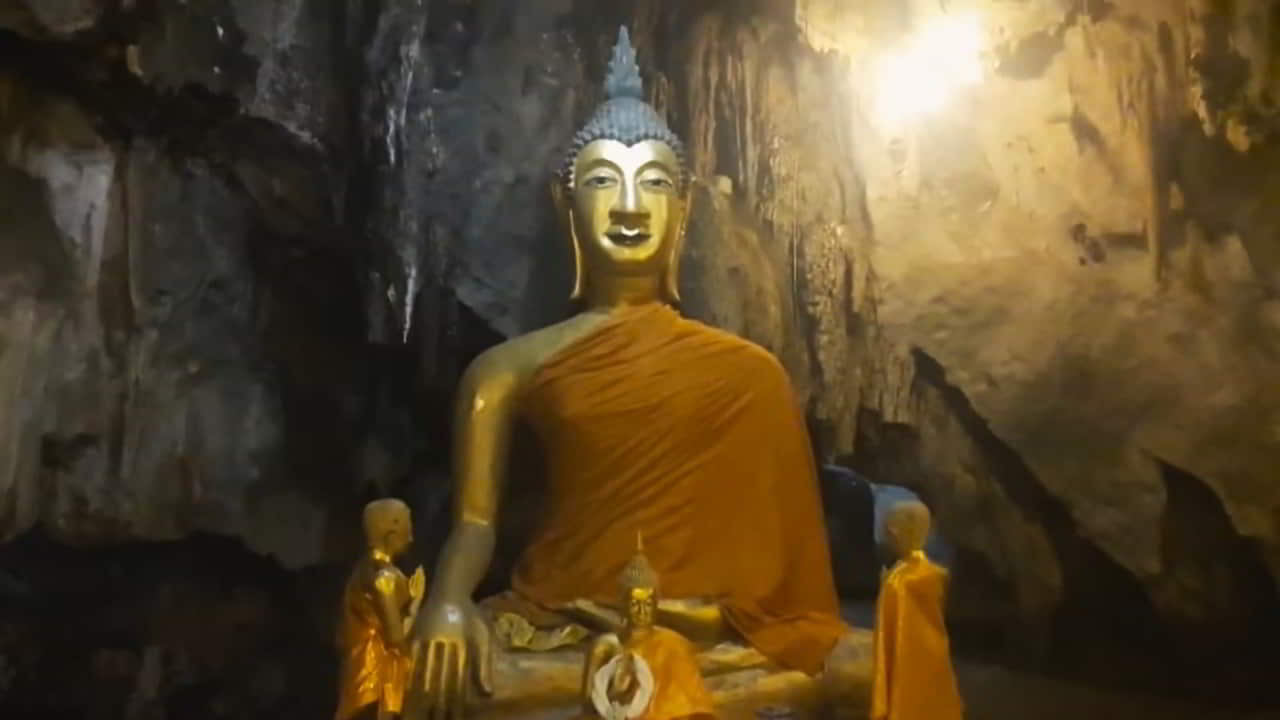 Kanchanaburi's Hidden Wats and Sacred Caves
Discover the mystique of Kanchanaburi through its hidden wats and sacred caves: Wat Tham Seua, Wat Ban Tham and Wat Tham Khao Pun, for an authentic Thai experience.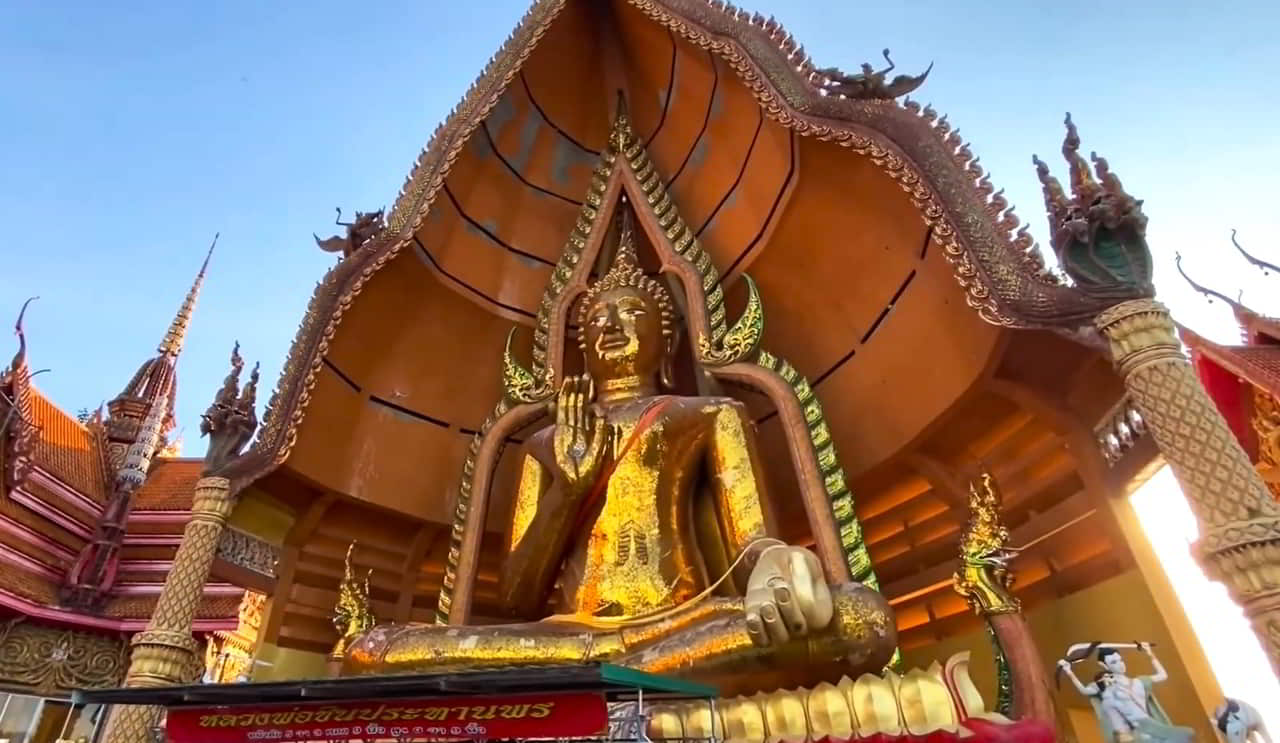 Wat Tham Seua or the Tiger Cave Temple
Wat Tham Seua, also known as the Tiger Cave Temple, is situated approximately 15 kilometers from the town of Kanchanaburi in western Thailand. Established in 1971, this Buddhist marvel has become a significant destination for both devotees and those seeking a breathtaking panoramic view.
Central to the temple is a colossal Buddha, standing at 18 meters in height and 10 meters in width, adorned with intricate golden mosaics. Added to the site in 1973, this iconic figure is visible from a distance. Accessing the temple involves ascending a steep path with 157 steps, or for those seeking a less strenuous journey, a small funicular railway is available.
Upon reaching the summit, visitors are treated to a 360-degree vista of lush rice paddies. Another notable feature is the temple's 7-storey chedi, a distinctive and uncommon structure. Climbing to the pinnacle of the chedi offers glimpses of the Buddha through small windows.
Wat Tham Seua exudes a serene ambiance, enhanced by its unique cave setting. It's important to note that, for safety reasons, the caves are generally no longer open to the public.
Useful information about Wat Tham Seua
For dining and refreshments, numerous small bars and restaurants surround the temple, providing visitors with convenient options.
Key Information:
Open every day.
Admission is free.
Funicular: THB 10 per person, operating from 08:00 to 16:00.
Transportation:
Songthaw buses are accessible from the bus station.
Optimal transportation method: Scooter.
Wat Ban Tham or the Temple of the Dragon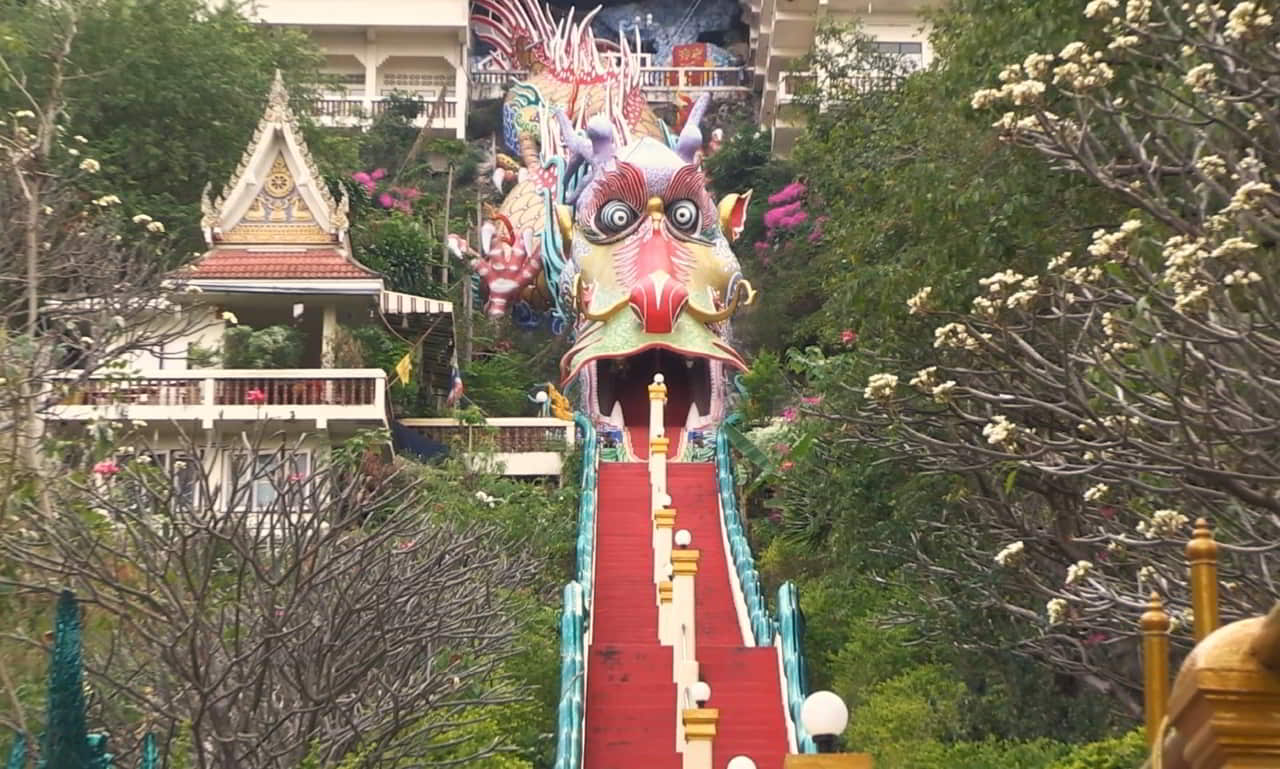 Wat Ban Tham, an ancient temple situated in Tha Muang district, approximately 10 kilometers from Kanchanaburi, Thailand, is a captivating destination. Nestled near the Mae Klong river and surrounded by mountains, the temple is renowned for its unique cave entrance, reached by climbing stairs that culminate in the mouth of a dragon, earning it the moniker The Dragon Temple. Brace yourself for the ascent, as it involves conquering over 700 steps.
Inside the cave, a stalactite resembling a woman is named Bua Kli, inspired by a Thai legend. Wat Ban Tham hosts various Buddhist shrines, featuring an image of Buddha in meditation and a replica of Phra Buddha Chinnarat. The temple's origins date back to the Second World War, with a tale of a monk taming a magpie, possibly explaining the abundance of birds around the temple.
Atop the mountain, visitors are rewarded with breathtaking panoramas of the surrounding mountains, the Mae Klong river, and the picturesque landscape.
Useful information about Wat Ban Tham
Admission is free.
Open daily from 07:30 to 17:00.
Catering options: Look out for small stalls with vendors along the staircase.
Recommended mode of transportation: Scooter.
The sacred cave of Wat Tham Khao Pun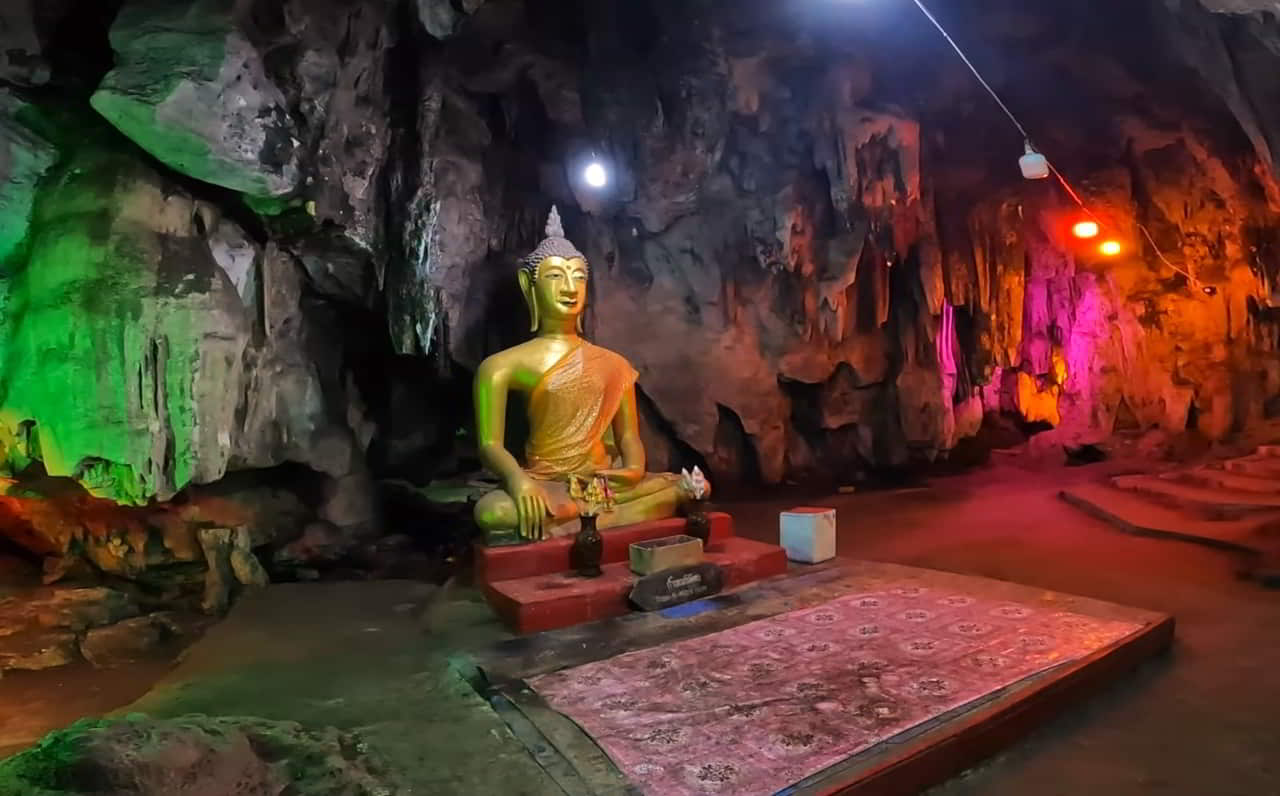 Wat Tham Khao Pun, located approximately 6 km from Kanchanaburi, is home to a fascinating cave spanning around 200 meters across multiple levels.
This historically rich cave comprises nine rooms, each with its unique purpose. The tour guides you through narrow corridors and various chambers, culminating in a room adorned with stalactites and a majestic golden Buddha statue measuring approximately three meters in width.
Upon exiting the cave, your exploration can extend to historical photos from the Second World War. These images specifically depict the construction of the Japanese railway line through the jungle, a route that passes in close proximity to the cave.
Useful information about Wat Tham Khao Pun
Admission Charge.
Open daily from 07:30 to 19:30.
Dining options: Explore small, friendly bars with scenic views overlooking the River Kwai.
Recommended transportation: Scooter or boat (available through tours).
More information about Kanchanaburi
To uncover more of Kanchanaburi's marvels, dive into our complete guide. You'll discover in-depth information on additional attractions, travel tips, and recommendations for an unforgettable experience in this Thai region. Immerse yourself fully in the wonders of Kanchanaburi by exploring our comprehensive guide.