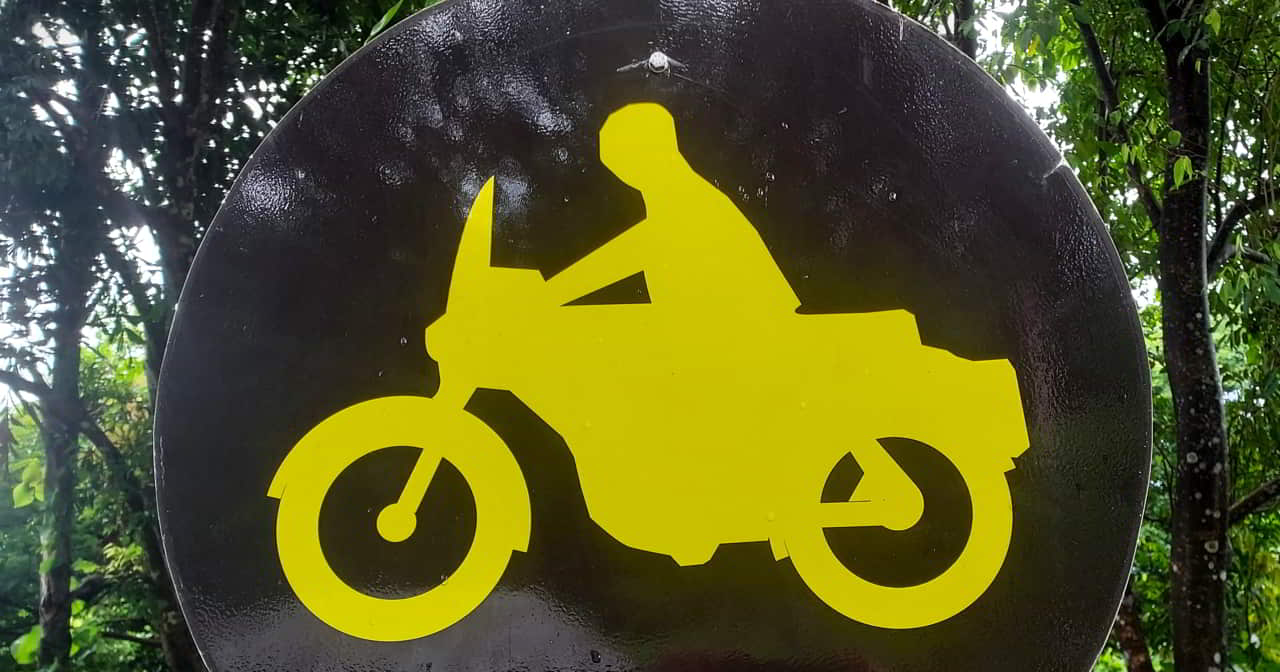 Motorcycle Guide: Exploring Koh Lanta on Two Wheels
Koh Lanta boasts a network of roads and tracks that beckon exploration in every direction. Embark on thrilling motorbike tours with these four enticing route suggestions.
Discovering Koh Lanta by Motorcycle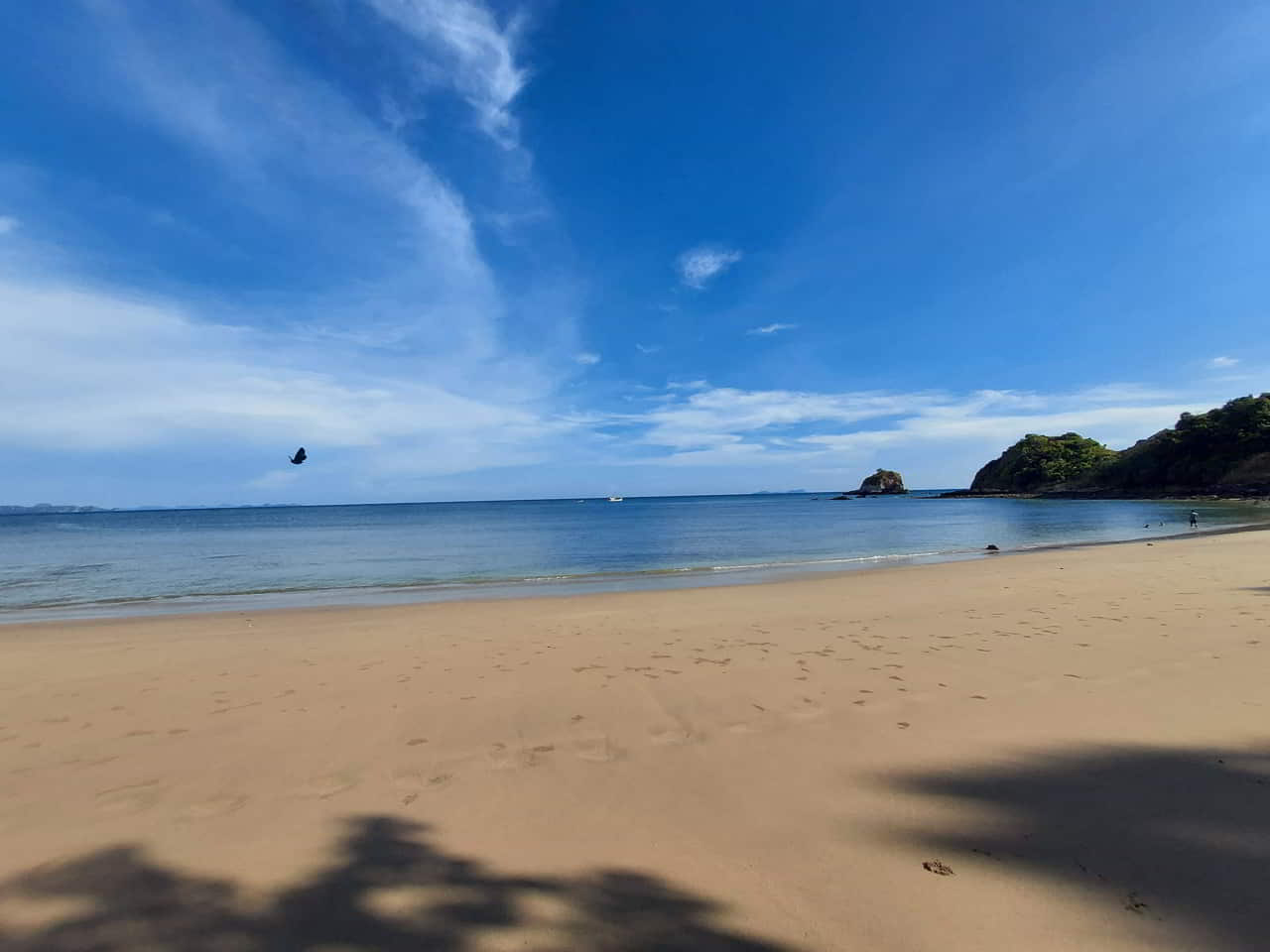 Exploring Koh Lanta by motorcycle means immersing yourself fully in the splendor of this Thai island. The freedom of the open road, the wind in your hair, and the chance to uncover hidden gems make it an unforgettable experience. In this article, we present four captivating routes for discovering Koh Lanta by motorcycle. Get ready for adventure!
Koh Lanta Noi Motorcycle Route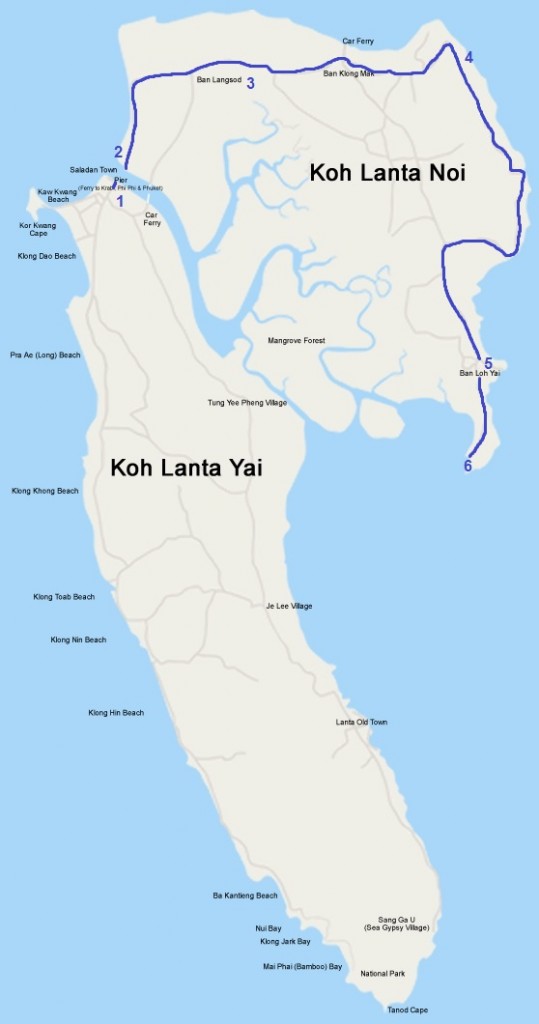 From Ban Saladan (1), heading north, take a longtail boat to cross the channel (20 bahts) or opt for the ferry (note: this skips point 2). After the crossing, indulge in the serenity of a secluded and untamed beach, untouched by tourist developments. A hidden gem waiting to be discovered (2).
Heading north, after a journey of over 4 km, one encounters scattered farms and rice fields adorned in their distinctive greenery (3). Continue for an additional 3 km to reach the northeastern tip of Koh Lanta Island (4). The beaches, nestled between the sea and the mangrove, contribute to the island's untamed allure.
Descend the coast for 9 km, where the journey is subtly enhanced by the scent of fish farms along the way. A noteworthy stop is Ban Loth Yai (5). Proceed until reaching the coastline—the final destination. Few, if any, venture this far, drawn perhaps by the allure of a Robinson Crusoe experience, coupled with the warm hospitality of the locals encountered along the way.
East Coast Motorcycle Adventure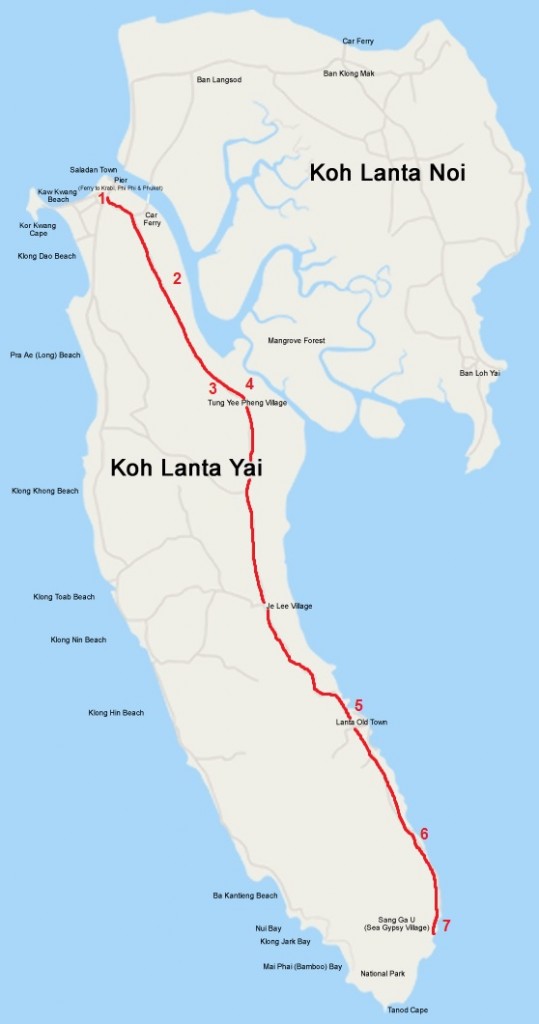 Starting from Ban Saladan (1), head southeast, passing by the police station and keeping the pier to Koh Lanta Noi on your left. Follow the stretch of sea between the two islands, unveiling local industries such as palm oil, shrimp farms, and other fish farms.
After a few kilometers, two expansive fish farming lakes come into view (2). Enjoy a lunch break on-site and savor some freshly caught fish in a laid-back atmosphere with affordable prices.
Just 1 km away, you'll find the Lanta Monkey School (3). You can either stop to watch the monkeys' performances or, for a more meaningful experience, venture to the other side to witness the conservation efforts dedicated to preserving and nurturing the mangrove (4). Consider a kayak excursion to explore the rich life within the mangrove (don't forget your mosquito repellent).
After this nature-infused adventure, head south toward the old town (5). Beware, the road can be somewhat challenging in places with steep inclines, but careful driving should pose no issue. At the top of a hill, discover two panoramic restaurants (6) where you can unwind with a drink while soaking in the breathtaking scenery. From there, descend along the coast until you reach the village of Ban Sang U (7), home to a community of former sea gypsies who have now settled down.
West Coast Motorcycle Journey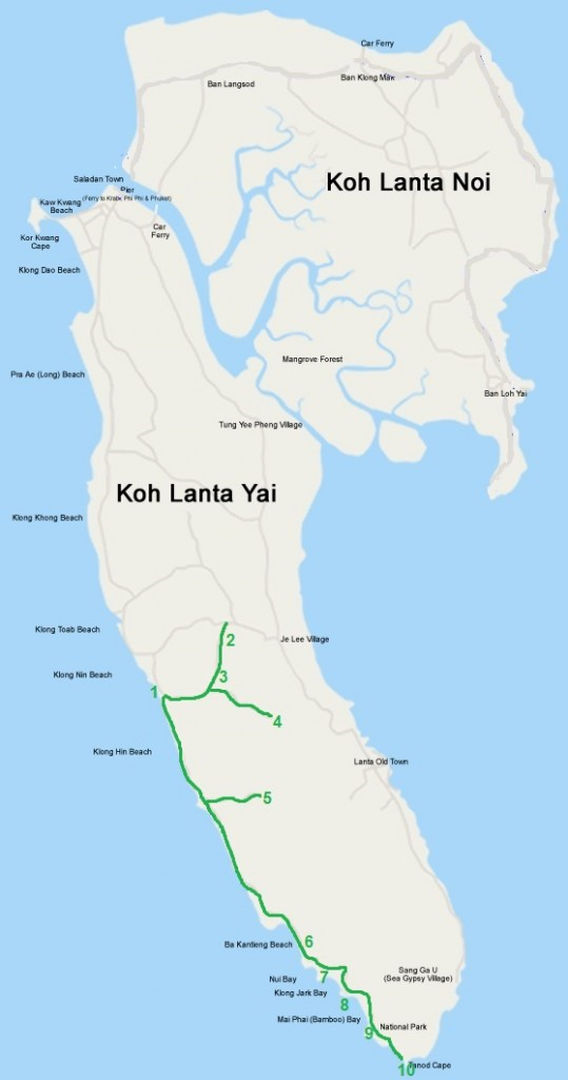 Commencing from Klong Nin Beach (1), head north and after 700 meters, take a steep right turn onto a narrow road (note: motorcycle proficiency is advised, and this route is not recommended during the rainy season). Follow the trail for 600 meters, consistently veering left, leading to a breathtaking viewpoint that offers panoramic vistas of the nearby islands surrounding Koh Lanta (2). In close proximity is the "Atcha Pony Hut" (3), serving as the starting point for jungle treks. On the descent back to the main road, at the intersection, for the adventurous, a left turn leads to the Maie Keow Cave (4), where guides are available to unveil the wonders of the cave.
Returning to the main road, head south. After 3 km, take a right turn to explore the Tiger Cave (5). Then, return to the main road to descend along the west coast, making stops at Ba Kantiiang (6), Nui Bay (7), Waterfall Bay (8), Bamboo Bay (9)—don't forget your swimsuit! Finally, reach the southern tip of the island at the national park (10).
The Loop: Motorcycle Exploration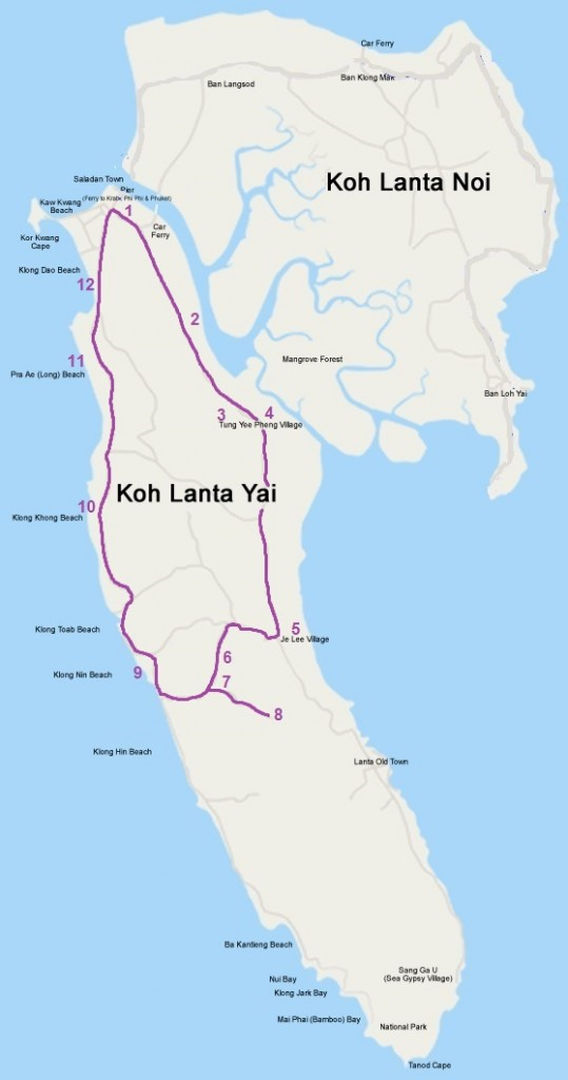 Combining elements from the East Coast and the Southern route, this journey simply demands good weather, a spirit of adventure, and a motorcycle that can handle a few bumps. We begin exactly as with the East Coast route (1).
You can explore the two expansive fish farming lakes (2), the Lanta Monkey School (3), and the mangrove (4).
Midway between the mangrove forest and the old town, at Je Lee Village (5), take a right… just be aware, the road isn't always passable.
This leads to Atcha Pony Hut (7) and Mai Keow Cave (8). Once these two stops are behind you, return to the main road, turn right heading north, passing several scenic spots: Klong Nin Beach (9), Klong Toab Beach, Klong Khong Beach (10), Pra Ae (long) beach (11), and Klong Dao Beach (12). And there you have it; the loop is complete.
Motorbike Safety Guidelines for Koh Lanta
Helmet Usage:
Wearing a helmet is compulsory in Thailand, including when you're riding a motorcycle. Ensure you wear an authorized helmet that fits well and is in good condition.

*Adherence to Traffic Regulations:
Acquaint yourself with the local traffic regulations. Keep in mind that driving customs may diverge from your accustomed practices, so adhere to traffic signs and signals.

Insurance Coverage:
Verify that your motorcycle possesses adequate insurance coverage. Some motorcycle rental services may include fundamental insurance, yet you may want to contemplate supplementary coverage for added assurance.

Prudent Speed:
Modify your speed to correspond with prevailing road conditions. Certain sections of the island may feature narrow and winding roads, so it is advisable to drive cautiously, particularly when navigating curves.

Protective Attire:
Besides wearing a helmet, it is advisable to don protective attire such as gloves, sunglasses, or a visor to shield against insects and the sun.
About Koh Lanta
Discover all the secrets of the islands around Koh Lanta in our comprehensive guide. From dreamy beaches to underwater adventures, find inspiration for your next trip. Read our guide now and get ready for an unforgettable adventure!