Thailand: trains and railway stations
Buses, trains, planes Thailand is a country where it is easy to travel. The most difficult is to find the most appropriate. All information about trains and railway stations.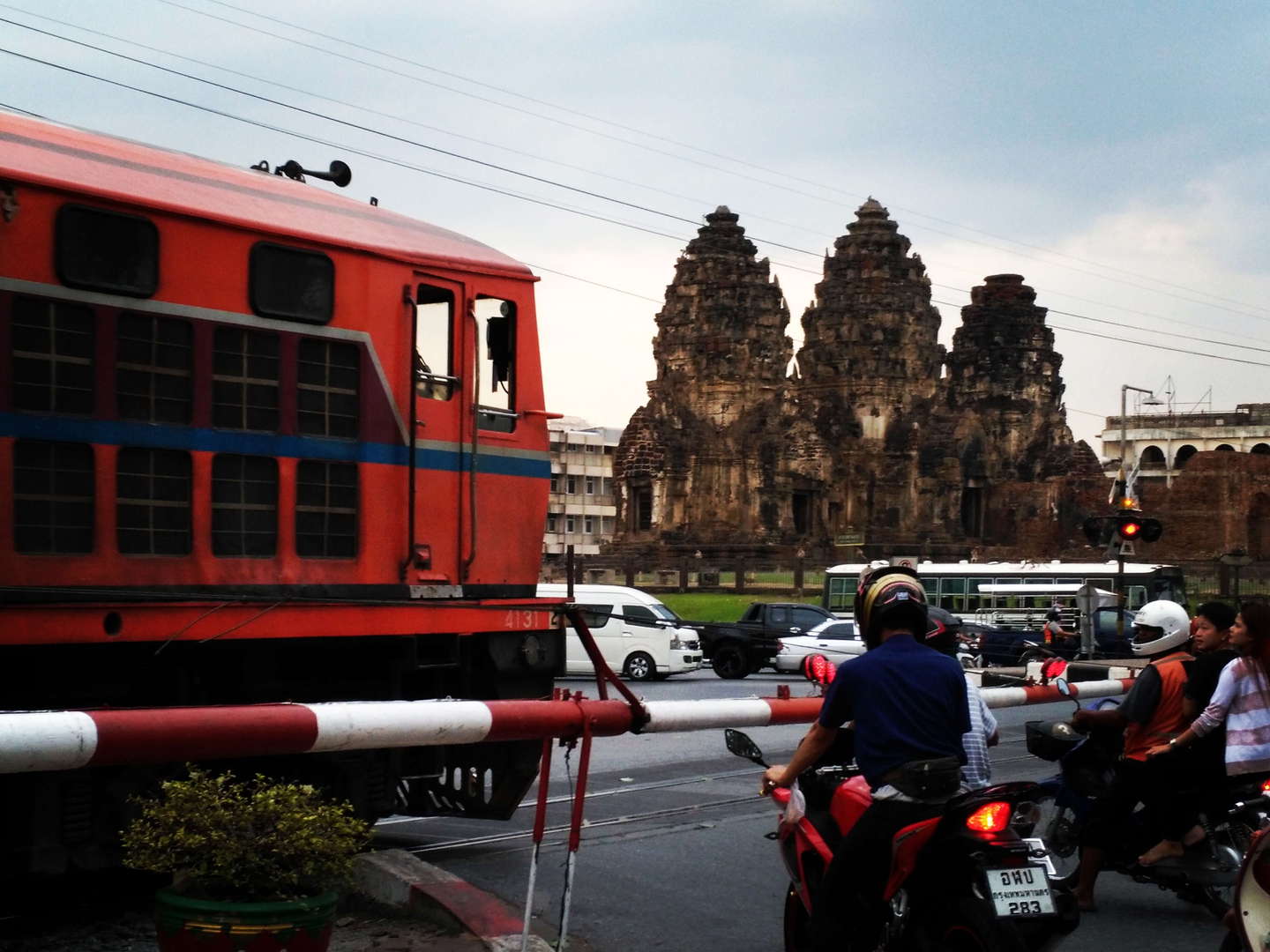 It is one of the most sympathetic and original means of transport. Travelers appreciate the train in Thailand because it's cheap and it's easy and convenient. All information on the train in Thailand: book, ticket purchases, train stations, timetable, etc.
To travel by train
The train is the most pleasant way to discover Thailand. As everywhere, prices and comfort depend on the category. In Thailand, the difference between classes is important. There are 3 categories:
The third category is the cheapest … really very economical. Only disadvantage wooden seats or then covered with an old blue leatherette.
Tickets can be bought at the last moment. It is very common for cars in this class to be full. It is advisable to arrive in advance.
The second class has much more comfortable seats. They change in bed for night trips. Prices vary: if the car is with air conditioning or with fan or if it is a wagon with seat or with berth.
For overnight trips, if you have the berth option, depending on the place of the bed, the price is more expensive for the bottom beds.
Attention in all trains with air conditioning, you must take a sweater or a small blanket. It is often very cold.
Ticket purchase:
Bunk beds: you must book several days in advance.
Seats: it depends on the destinations. For tourist cities, it is necessary to reserve several days in advance.
Trips for short distances (Bangkok / Ayutthaya for example), there is no second class. Only 3rd class.
The first class is very good in seat or berth: meal, blanket, attentive staff, etc. There is also the possibility of reserving cabins.
The cabins have a sink and have two berths.
1st class is only available for long distances. There are not many trains that have 1st class.
It is mandatory to book in advance. Destinations like Chiang Mai are often full several days in advance.
In the 3rd and 2nd class (wagon with fan), there are many street vendors who pass regularly (sometimes too often).
The 2nd class (with air conditioning), there are some street vendors.
In the 1st class, no seller. The train company takes care of it…
Street vendors offer: drinks (no alcohol - prohibited on trains) and small dishes (rice and local foods).
In trains - long distances - there is a restaurant wagon. It is possible to order and eat without moving.
Advantages and inconvenients
The advantages of the train:
Good value for money.
Comfort.
Opportunity to meet people.
Ideal for watching the Thai countryside.
The inconvenients :
Frequent delay.
Need to book in advance for tourist destinations.
Purchase and reservations:
It is possible to pay the tickets with a credit card.
Go to Railway Station: Bangkok Railway Station.
Ask an agency to make the reservation for you.
Note: To buy a ticket, you must have your passport.
Please note: it is strictly forbidden to smoke on the trains!
Example of a trip: price, duration, timetables
Railway stations and Train schedules
Trains and Railway stations belong to the national company SRT: State Railways of Thailand.
Railway stations:
They are opened very early and close after the last train. They are very often downtown. We find there :
ATMs
toilets (sometimes with possibility of shower)
luggage deposit
mailboxes
Train schedules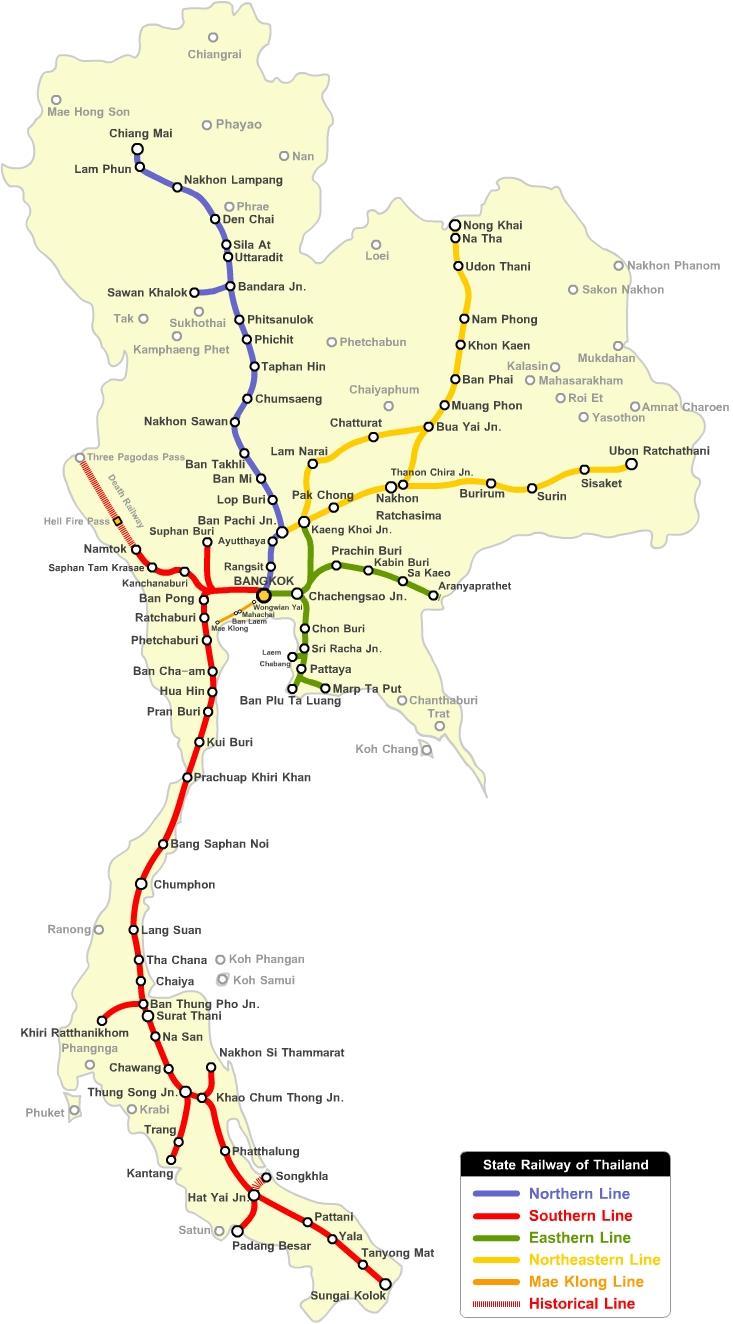 Thailand's rail network is based on simple division. It follows the cardinal points.
The center of the country is Bangkok. If you want to go to the north, you have to refer to the table of northern schedules, for Phuket the south, etc.
For more details, we can look at the map of Thailand and its railway network.
The state of the network is quite fluctuating. The lines above Bangkok are in a good state. Conversely, the more down in the south, the network needs to be rehabilitated. This area suffers heavy rainfall during the rainy season, but also floods every year.
In these conditions, the delays are regular. There are very few from Bangkok, it is much more common for trains from the south. The delays are often around one to two hours.