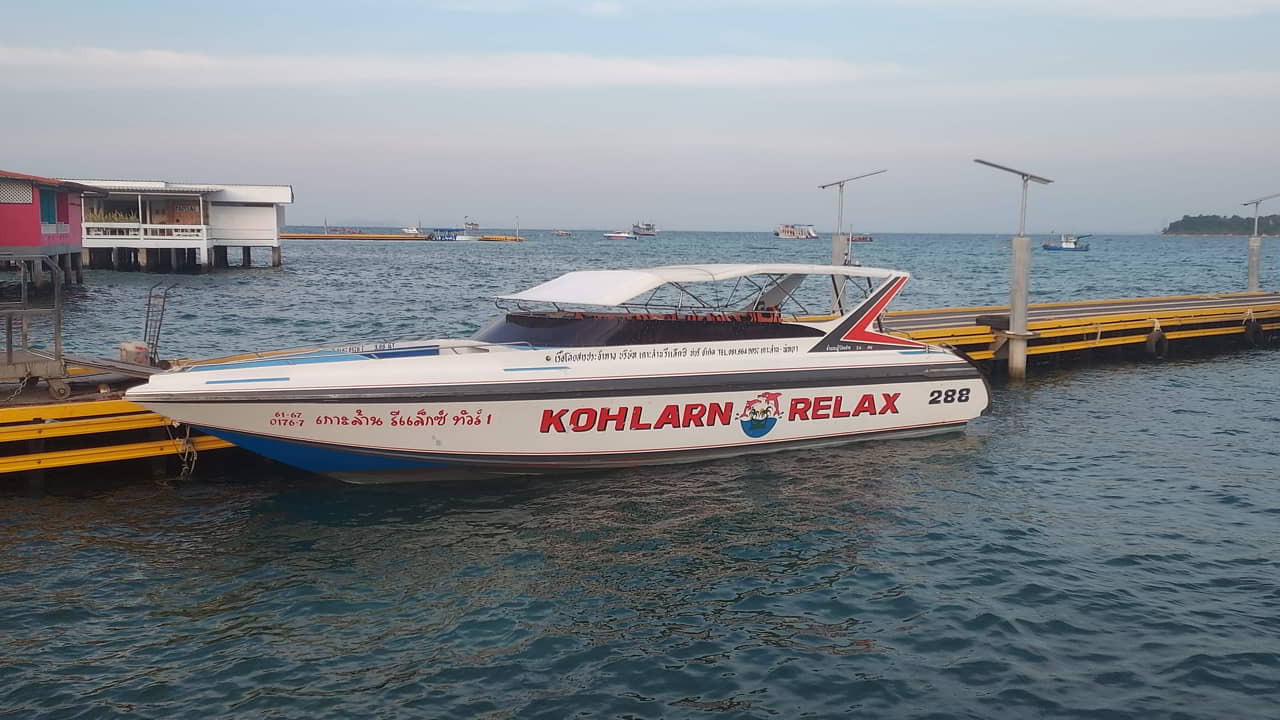 Koh Larn Travel Transport Guide: Boats, Ferries, and More
How can I reach Koh Larn? By boat or speedboat? How do I get around Koh Larn? Here's all the practical information you need to get to and around the island for an easy stay
Koh Larn is situated very close to the coast, just 7 km away from Pattaya, making it easily accessible by boat. Nonetheless, it's crucial to have precise information to prevent potential disappointments, which can occur quite easily.
How to get to Koh Larn from Pattaya
Pattaya Bali Hai Pier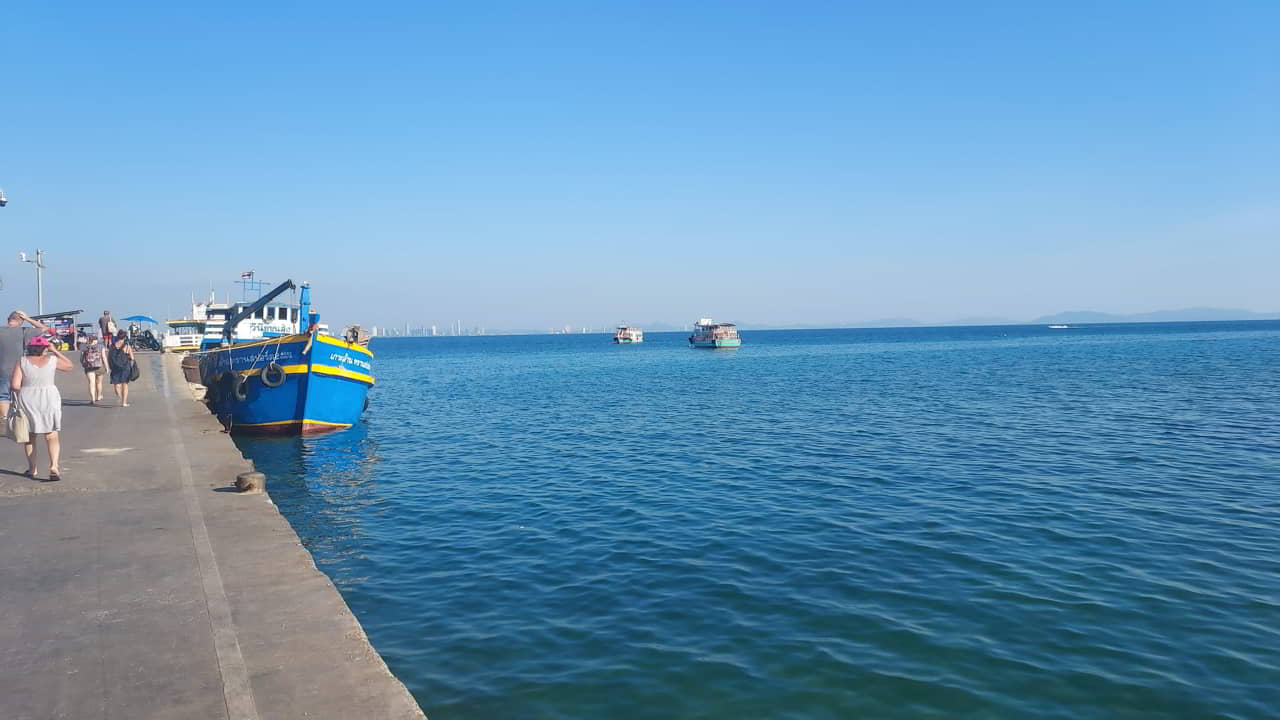 To reach Koh Larn, you should head to the Bali Hai Pier in Pattaya. Songthaew boats operate from the city center throughout the day. If you're traveling with a motorbike, you'll find several motorbike parks near the pier, typically charging around THB 40 for the entire day. Additionally, there's a paid car park available. It's advisable to arrive a bit early, as the area can get quite crowded, and finding parking spaces may be challenging.
Koh Larn and its jetties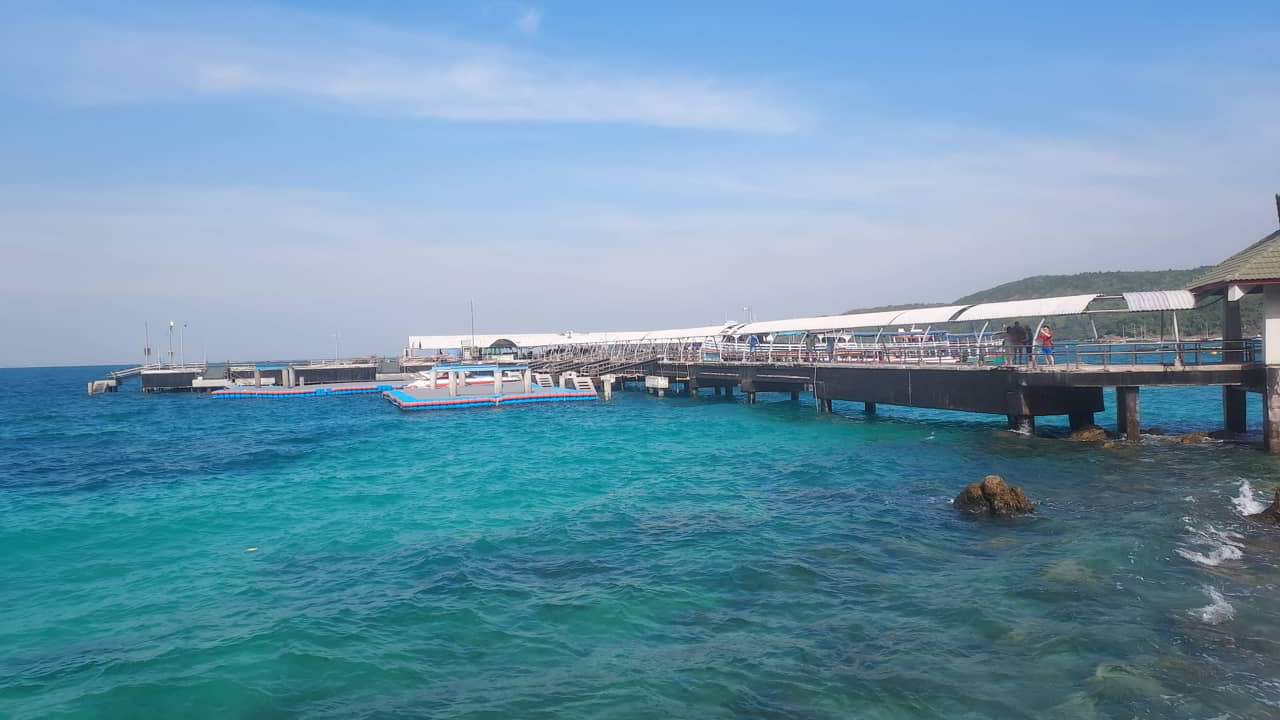 Koh Larn features two harbors/berths: Naban Village and TTa Waen Beach Pier. Ferries operate to both ports. Naban Village serves as the primary town on Koh Larn, offering a wide range of shops and essential infrastructure. Positioned opposite Pattaya, it's a bustling hub. On the other hand, Ta Waen Beach Pier, located on the island's west coast, is adjacent to the largest beach on Koh Larn
Whether you arrive at Naban Village or Tawaen Beach, you have the freedom to depart from either, as there is no obligation to stick to your initial choice. You can even choose to change your port of embarkation. Regardless of your choice, your arrival on the mainland will be at Bali Hai Pier.
Boats to Koh Larn
When it comes to traveling to Koh Larn, as is common in Thailand, you have the option to choose between speedboats and ferries.
Speedboat to Koh Larn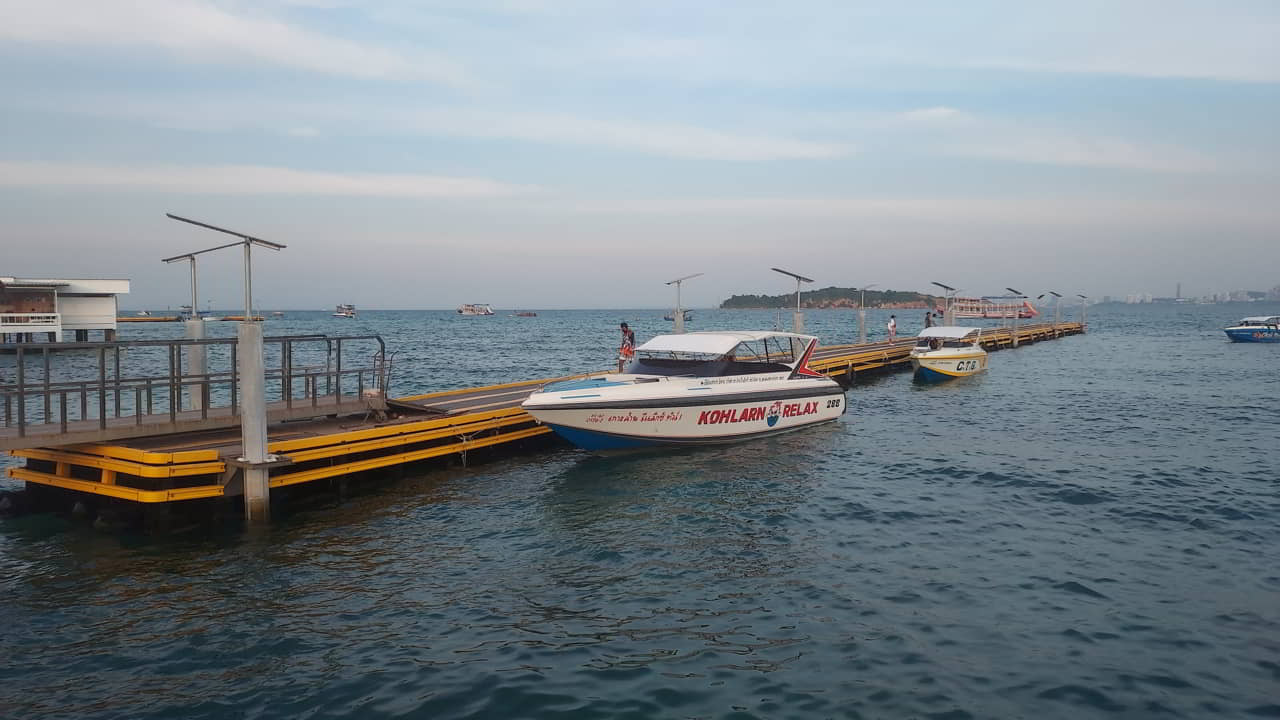 Speedboats are the quickest means of reaching Koh Larn, with a mere 20-minute journey time. You'll find most of them docked at Bali Hai Pier, although some can also be spotted along Beach Road in Pattaya and Jomtien.
The process is straightforward: once enough passengers are on board, the boat departs. Prices range from 100 to 150 THB per person, while the entire boat can be chartered for between THB 2,000 and THB 3,500, making it an excellent choice for groups. Most speedboats head to Naban Village, but it's usually flexible to arrange a trip to any beach of your preference.
Important: Timetable Alert!
The boats typically start their operations early in the morning and conclude around 6:00 pm. If you happen to be on the island past 6:00 pm and need to return to the mainland, you might need to charter an entire boat. Keep in mind that many boats cease operations as dusk sets in.
Important Note for Speedboat Travelers
Speedboat crossings, even if short in duration, can be quite strenuous. It is advisable for young children, individuals with health concerns, and particularly pregnant women to opt for the ferry instead. Speedboats are not known for their comfort, and depending on sea conditions, the ride can be quite bumpy!
Ferry to Koh Larn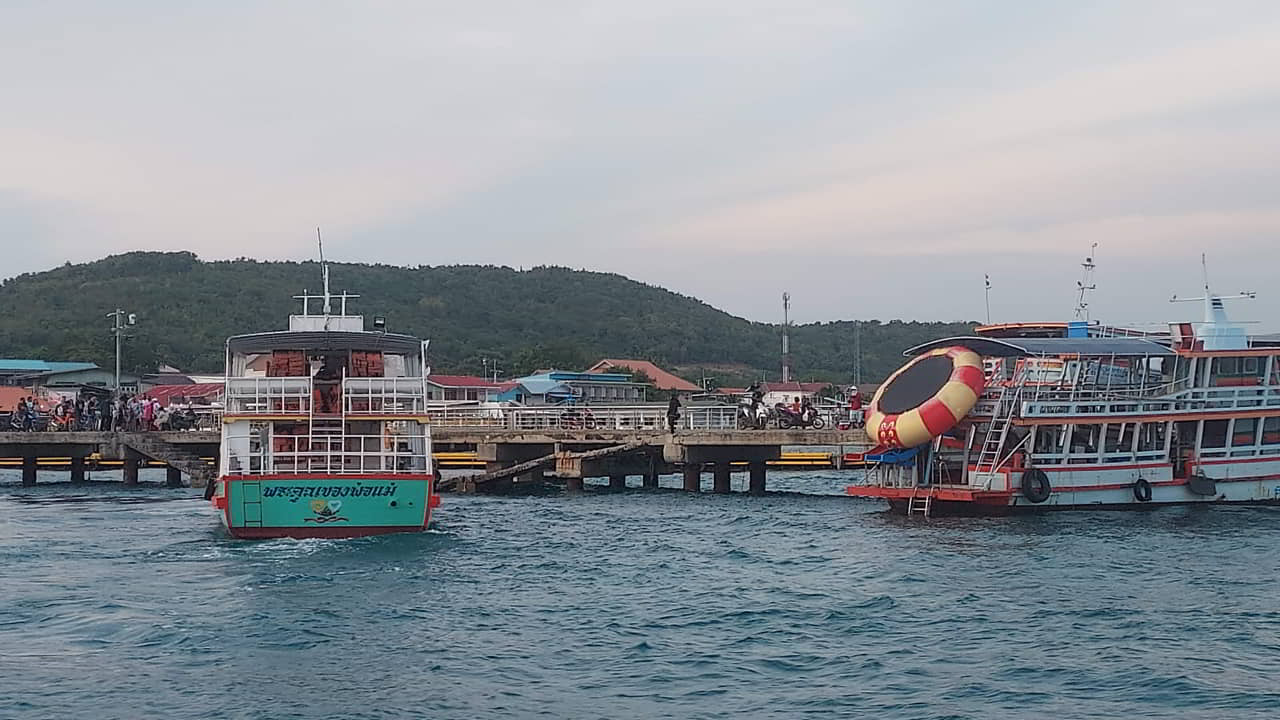 The ferries are located at the end of Bali Hai Pier. You'll find one ferry heading to Naban Village and another to Ta Waen Beach Pier. Please note that each destination operates on a different timetable. Tickets can be purchased just before boarding the boat
Important Details Regarding Koh Larn Ferries:
Ticket price: THB 30.
Single tickets only, No Return tickets available.
Schedules differ depending on destination port.
Crossing Time: Approximately 35 to 45 minutes.
Ferry schedule Koh Larn Pattaya
| Route | Departure Times |
| --- | --- |
| Pattaya to Naban Village | 07:00, 10:00, 12:00, 14:00, 15:30, 17:00, 18:30 |
| Naban Village to Pattaya | 06:30, 07:30, 09:30, 12:00, 14:00, 15:30, 17:00, 18:00 |
| Pattaya to Ta Waen Beach Pier | 08:00, 09:00, 11:00, 13:00 |
| Ta Waen Beach Pier to Pattaya | 13:00, 14:00, 16:00, 17:00 |
Be Mindful of Peak Times:
During weekends, public holidays, and school vacations, it's highly recommended to arrive early to secure a spot on the boats. These periods can see a significant influx of travelers, both on the journey to and from the island.
Getting Around Koh Larn
Getting around Koh Larn offers four options:
Walking: Suitable for the adventurous, but practical only for short distances.

Motorbike Taxis:

Advantage: Convenient; no need to negotiate fares.
Disadvantage: Negotiating prices for each trip.

Songtaew (Shared Taxi):

Advantages: Economical (30 THB per person), safe, and sheltered from the sun.
Disadvantages: Waiting for songtaews to arrive and depart.

Motorbike/Scooter Rental:

Advantages: Freedom to explore, with costs ranging between 200 and 300 THB per day plus petrol.
Disadvantages: Navigating sometimes unclear roads, and some rental vendors may require a passport or ID.
How to get to Koh Larn from Bangkok
You can reach Koh Larn directly from Bangkok with two options:
Take a Bus or Train to Pattaya: After arriving in Pattaya, you can then take a songtaew, taxi, or moto-taxi to Bali Hai Pier. Please note that this option may be time-consuming.

Direct Transportation to Bali Hai Pier: Alternatively, you can choose a vehicle that provides direct transportation to Bali Hai Pier (see details below).
Rest assured, you won't have to worry about securing a seat or the sleeper bed of your choice, whether it's on trains, minibuses, buses, or even ferries! You can conveniently book or purchase your tickets here.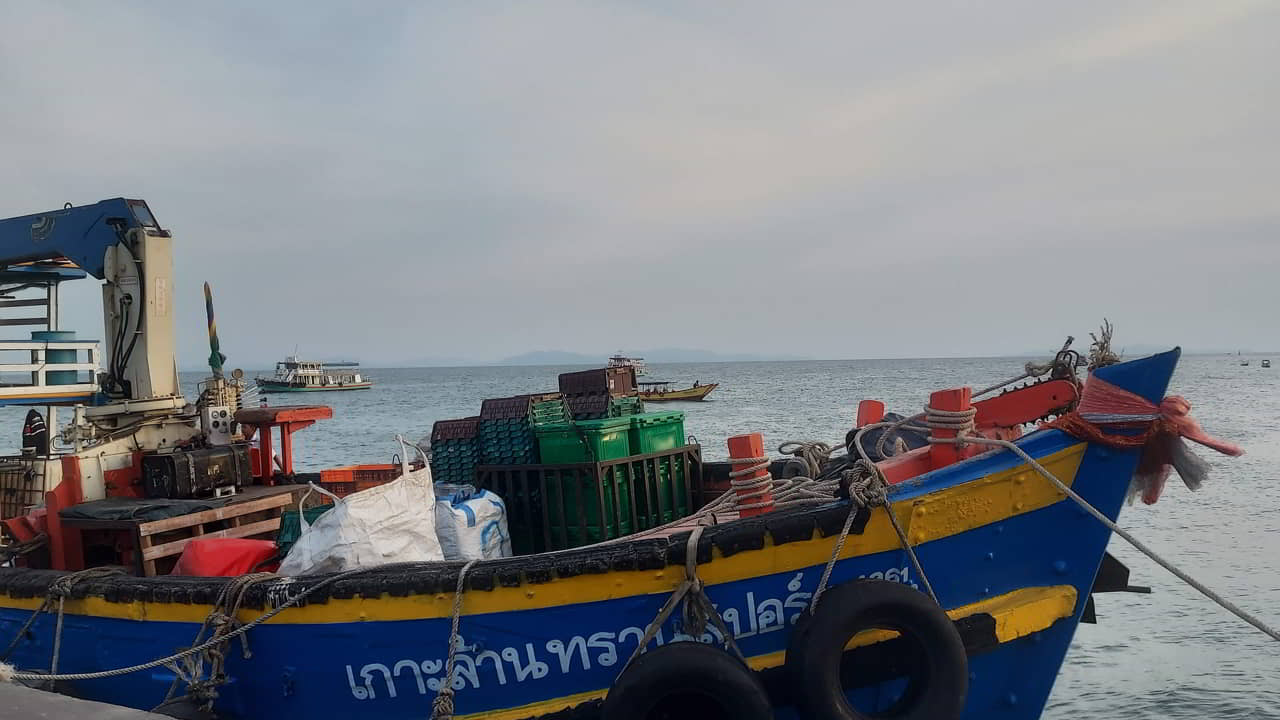 Additional information