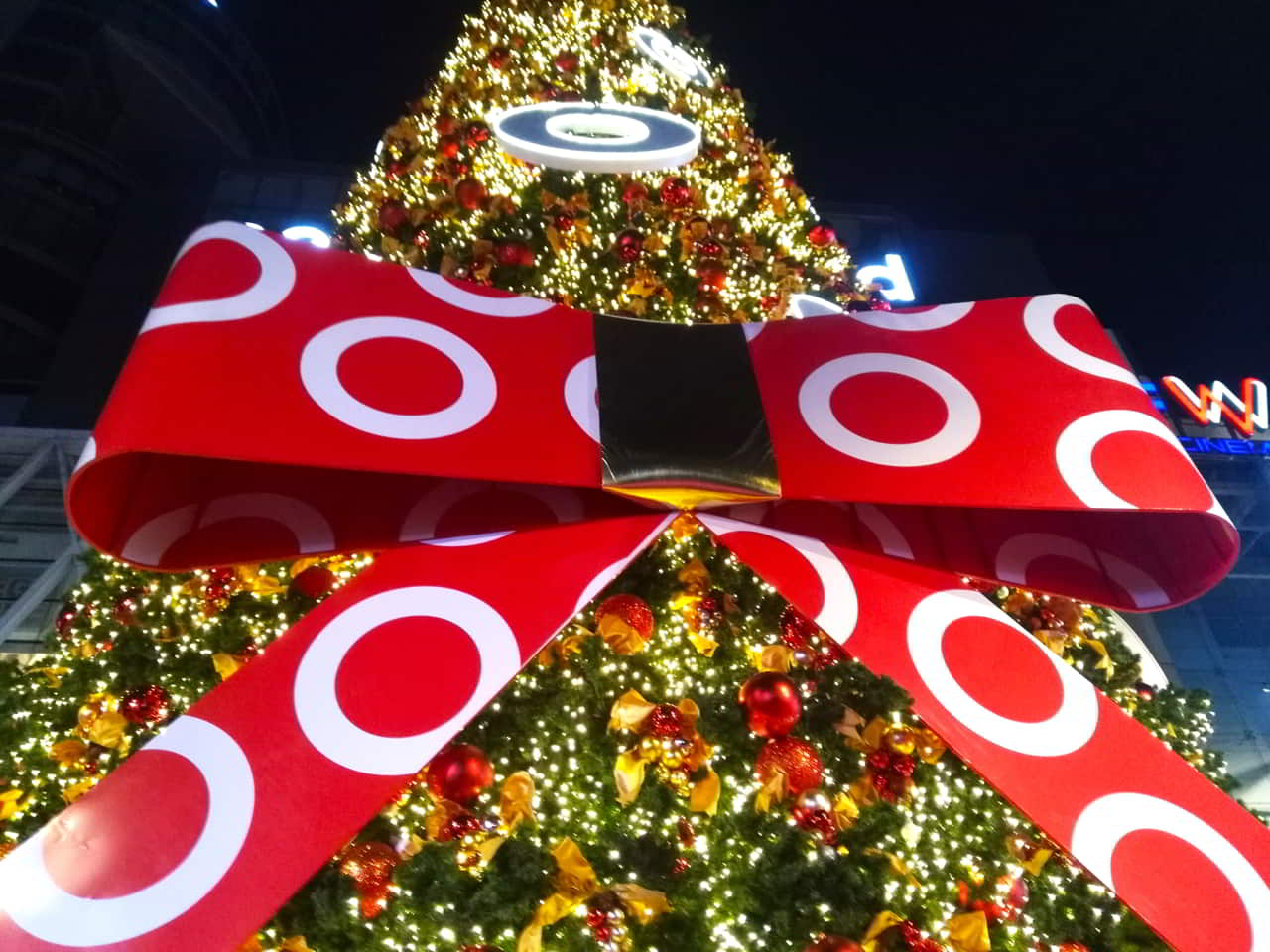 Christmas in Thailand: Traditions, Celebrations, and Festivities
It's a frequently asked question: Is Christmas celebrated in Asia, and more specifically, in Thailand? Discover everything about the festivities and what you shouldn't miss.
Is Christmas celebrated in Asia, specifically in Thailand?
The answer is not straightforward. While Christmas decorations and lights are indeed present, resembling those in Europe, the cultural norms and traditions associated with this celebration may not always be evident.
To provide a clearer picture, let's briefly explore the customs typically associated with Christmas, predominant in Europe and occasionally found in Thailand. Additionally, we'll highlight a few places and activities to experience the Christmas celebration in Thailand.
How do Thais celebrate Christmas?
Christmas Trees in Thailand?
The first and by no means the least important rule for a successful Christmas is to have a Christmas tree. Generally, Christmas trees are a staple in almost every home in Europe. However, when you look at homes in Thailand, Christmas trees are rare, if not almost non-existent. They are mainly found in large shops or public places. In Bangkok, for example, you can find some beautifully decorated ones in front of Iconsiam, Siam Paragon and especially CentralWord.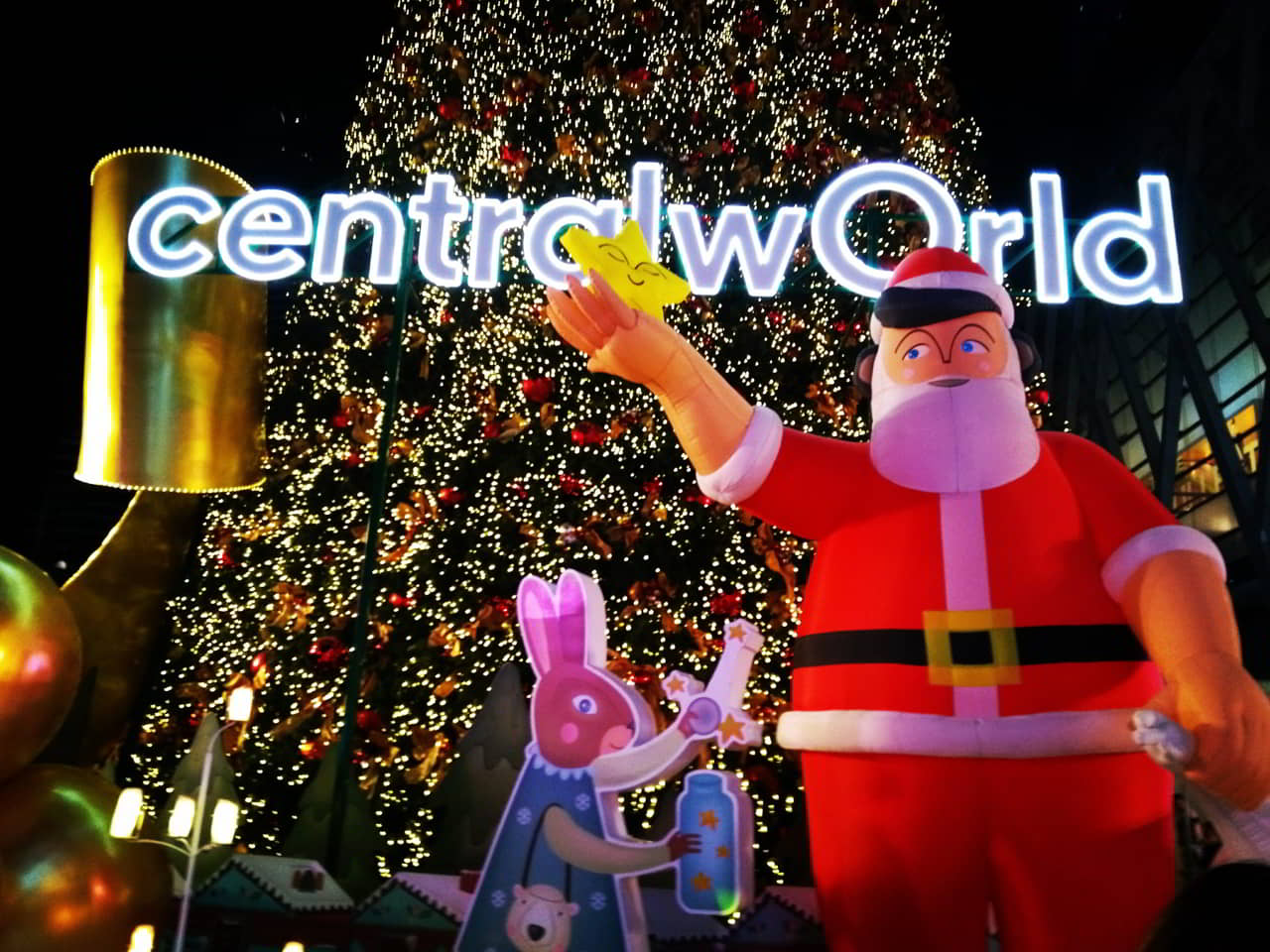 Do We Give Christmas Presents in Thailand?
The second implicit rule of Christmas states that where there's Christmas, there are presents, and especially gift packages. Presents are always given with wrapping, adorned with a ribbon when the gift is too bulky. This practice of concealing gifts is relatively recent in Europe; in the past, gifts were exchanged openly. The act of hiding the gift adds an element of surprise.
In Thailand, it's fair to say that people appreciate gift-wrapping, but this is only if the gifts are indeed exchanged. In reality, very few families in Thailand give Christmas presents—not because they don't want to, but because it's a custom that doesn't resonate with many.
Is Christmas a family holiday in Thailand?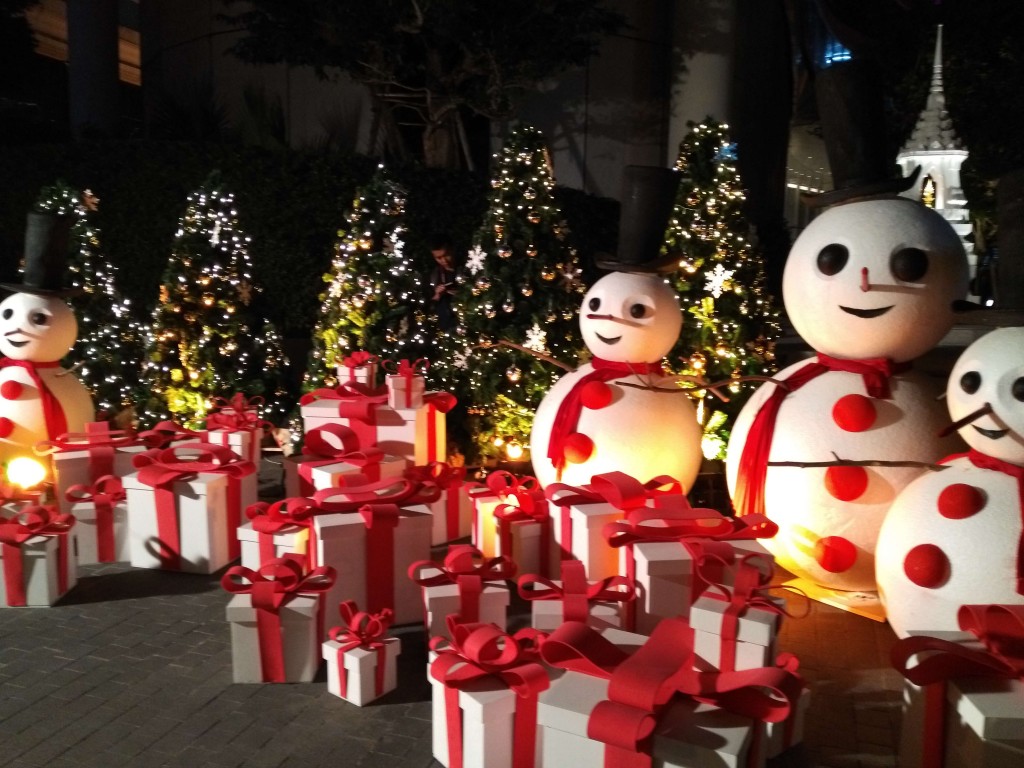 So, on this day in Thailand, we participate in a significant family reunion where we exchange gifts – it's the well-known game of give and take, as ethnologists describe it. In Asia, aside from Christian families, there isn't a widespread tradition of large family gatherings during Christmas. Notably, there's no Christmas Eve party, and this is due to a simple reason: December 25th is not a public holiday
Christmas Characters in Thailand
The fourth implicit rule of Christmas celebration involves the creation of a character to embody the spirit of Christmas. In Western culture, various characters fulfill this role, such as Père Noël in France, the American Santa Claus, Saint Nicholas or Christkind in northern Europe, and the Three Kings in Spain, among others.
In Thailand, there isn't a specific character, although the influence of the traditional Father Christmas becomes more apparent from the end of November.
Are There Any Special Christmas Decorations in Thailand?
Christmas trees, yes, but what about decorations? It's fair to say that Thais are highly creative and enthusiastic about decorations. The main streets dazzle with superb illumination, and the windows of department stores gleam with festive displays. Numerous public spaces are adorned with at least one small object or garland to mark the occasion. Another noteworthy place to explore is hotels, as many of them go all out in embracing the Christmas spirit.
A little tip:
Annually, the Anantara Hotel in Bangkok hosts a Christmas tree competition where artists showcase their unique visions. It's a delightful place to explore and discover the creative expressions of the season.
Christmas decorations in Bangkok's department stores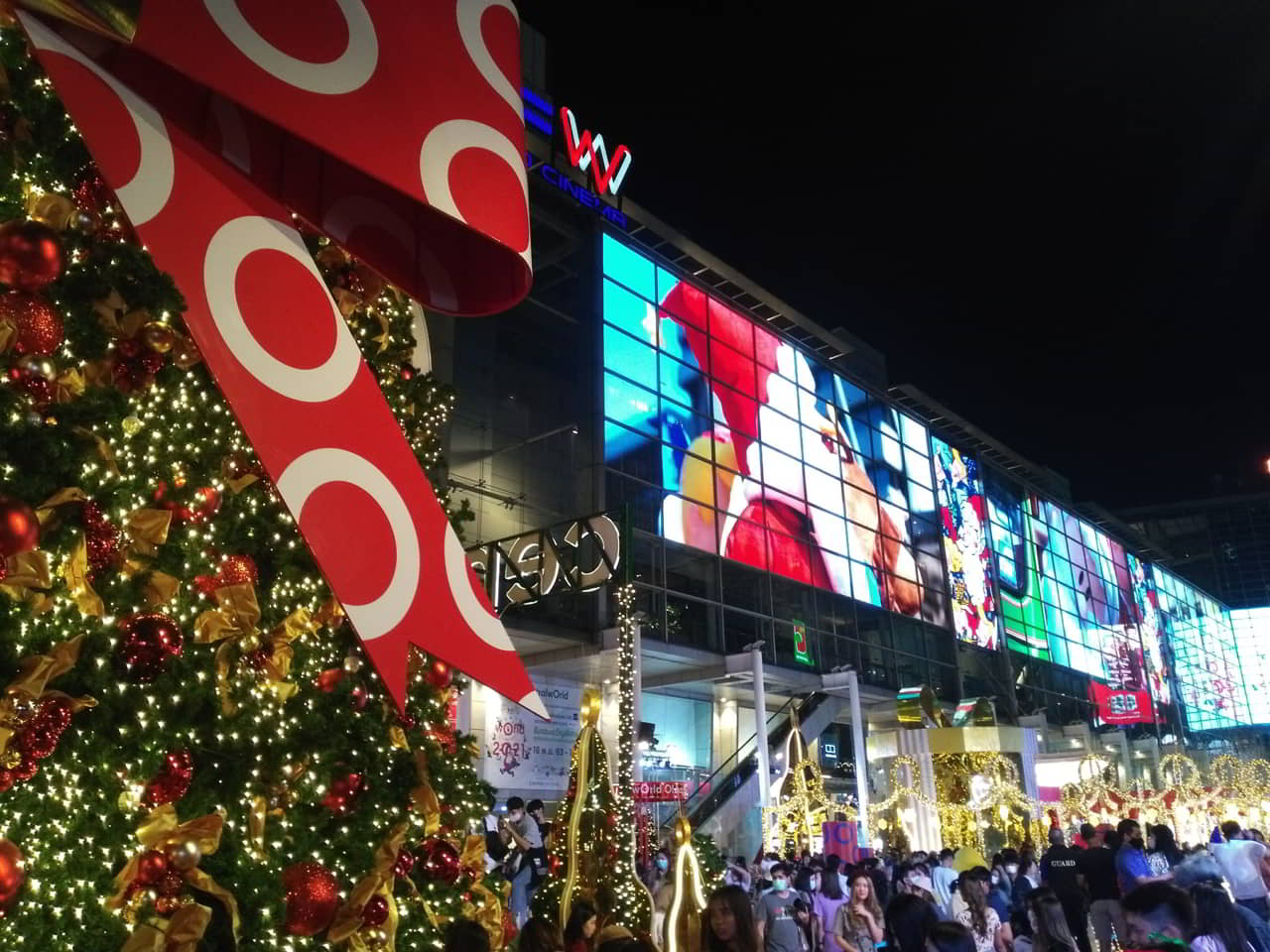 Let's face it, the primary Christmas-related events are orchestrated by department stores, reminiscent of the practices in 19th-century Paris and London. Malls and superstores each contribute in their own way to a sort of Commercial Avant-Garde. Throughout December, posters featuring upcoming toys and gifts can be spotted, and catalogues are distributed, offering something for everyone. The familiar tunes of Christmas carols fill most shopping centers and even some BTS stations.
As we've seen, the decorations are very much in the Christmas spirit, not to mention the ubiquitous sale of red hats… In short, everything is in place to establish this relatively new Christmas shopping ritual in Thailand.
It's evident that the spirit of Christmas—be it the commercial or familial one—is gradually taking hold in Thai society. However, for many, it remains a holiday with little factual basis, primarily seen as a festive event in which participation is optional. There is no implicit obligation to celebrate Christmas here.
What are the traditional Christmas dishes in Thailand?
Thailand does not have traditional Christmas dishes such as turkey, capon, or Yule log. While Thai culture is gradually incorporating Christmas, there is currently no specific Christmas dish.
Is Christmas a public holiday in Thailand?
No, Christmas is treated as a regular day. On December 25th, administrations, banks, shops, schools, and universities remain open.
Are there any specific Thai traditions associated with Christmas?
The only Thai traditions linked to Christmas are observed within Christian communities that celebrate the holiday. Regions or towns with a significant Christian population may host dedicated festivals, as seen in places like Chanthaburi or Sakon Nakhon.
Christmas outside Bangkok
While Bangkok is undoubtedly the hub of numerous Christmas activities, the provincial cities across Thailand also have their share of festive events. Let's take a look at the main Christmas happenings in these cities.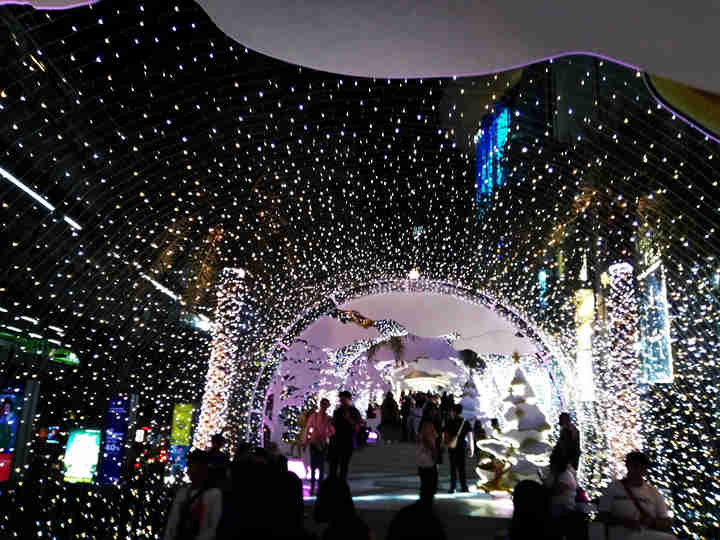 Chanthaburi and the Christmas Lights
Chanthaburi stands out as one of the cities that wholeheartedly embraces Christmas, and this enthusiasm can be attributed in part to its sizable Christian community and boasting one of Thailand's largest cathedrals.
Hosting the Chanthaburi Miracle Festival for several years now, typically taking place between December 21 and 24, the city comes alive with sound and light shows at the Cathedral of the Immaculate Conception. The festival also features dance performances, fireworks, and charming small markets. Naturally, the cathedral hosts various services to mark the Christmas celebration.
The Chanthaburi Miracle Festival faced cancellations in 2020, 2021, and 2022 due to health and economic reasons. As of now, organizers for 2023 seem inclined to scale down events, with no current program available. Updates will be provided as soon as information becomes available.
Koh Phangan, a Full Moon to wait for the Santa Claus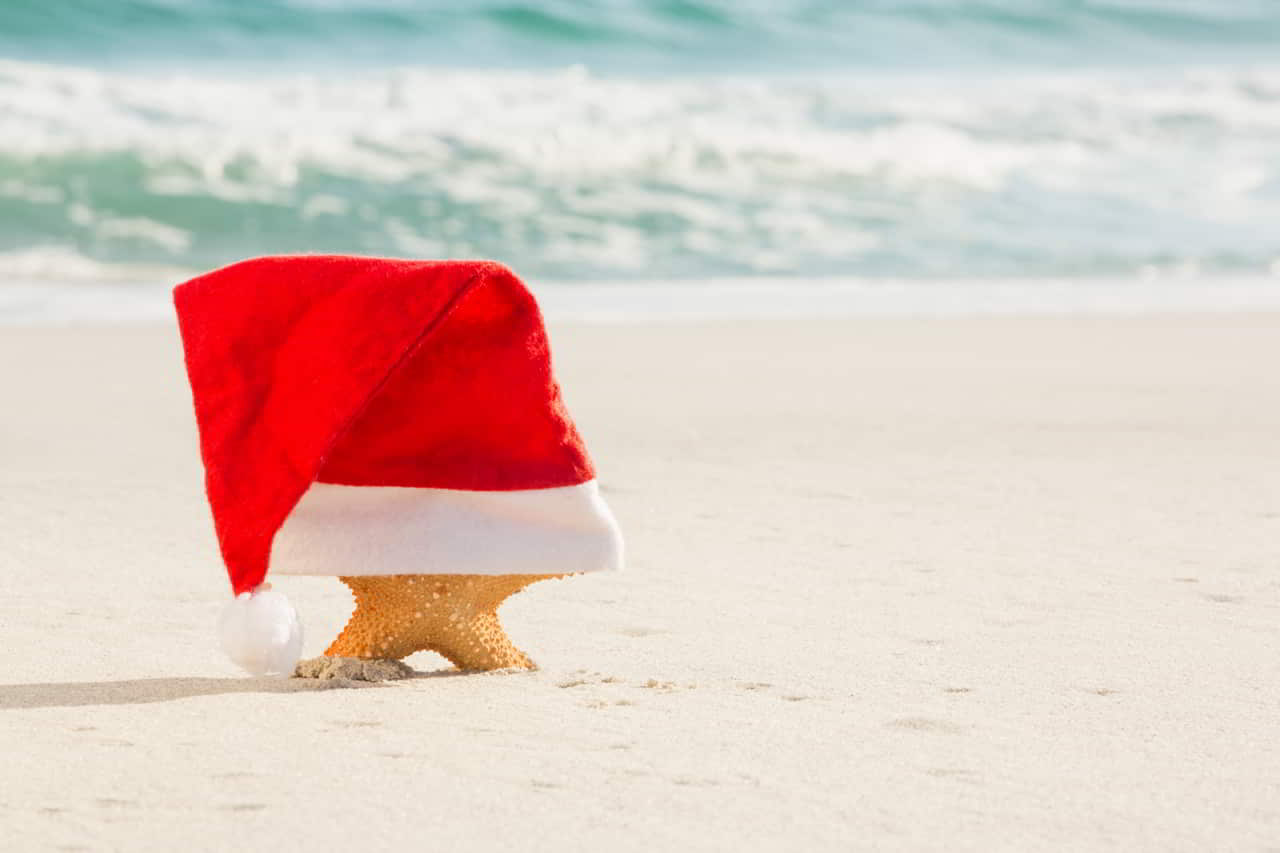 Christmas with sound, sand, and sea! We're veering away from the traditional Christmas spirit for the Full Moon festivities. Yes, festivities, as there are three organized in December—one for each significant occasion. The first is for the Full Moon, the second for Christmas on the 25th, and the final celebration for New Year's Eve on the 31st. Normally, there's one festivity each month.
Christmas in Phuket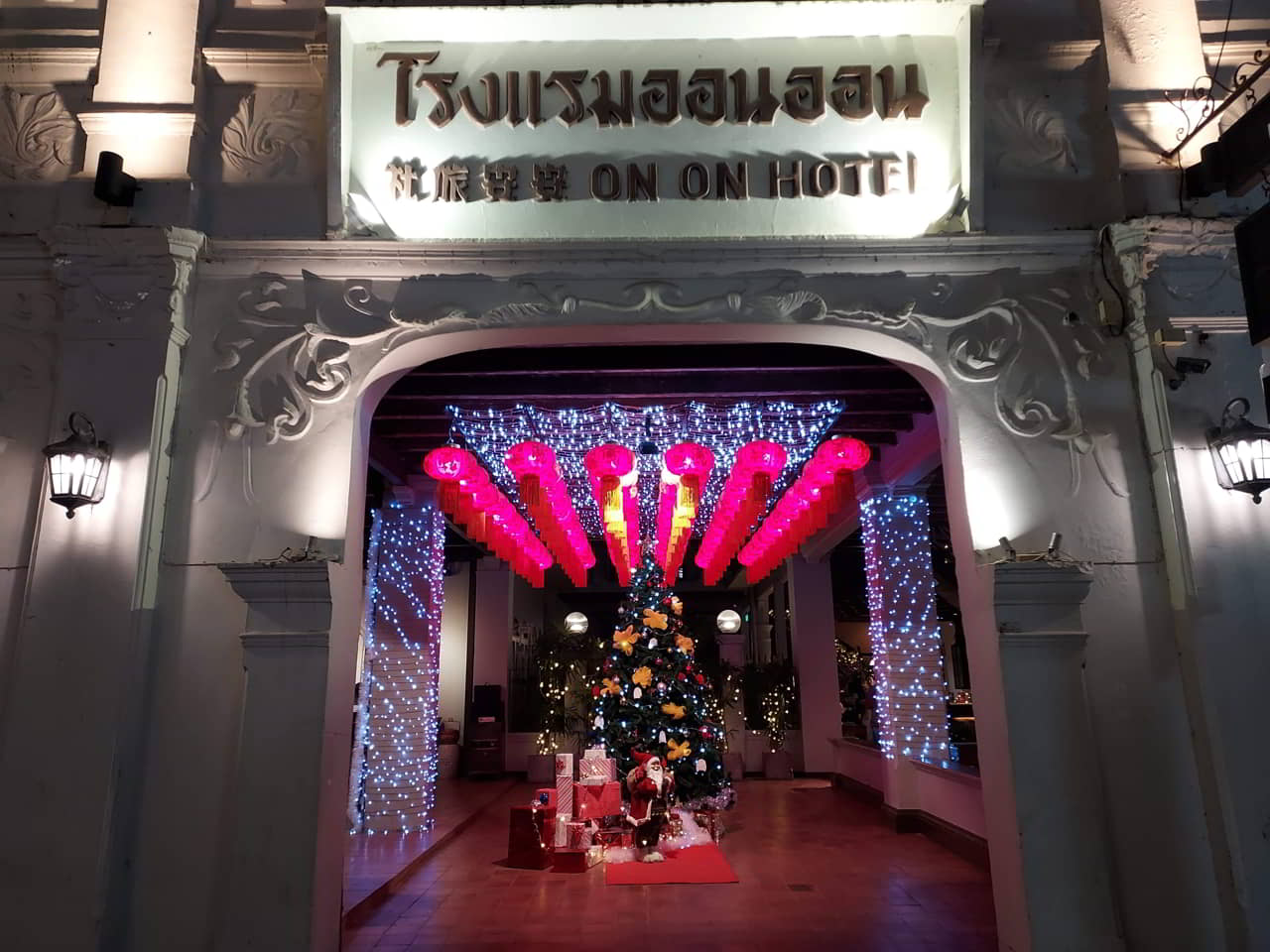 Christmas in Phuket offers the ideal setting. While the islands provide a perfect cocoon for a tranquil Christmas, Phuket reveals its more festive side. Numerous bars and restaurants organize parties, but the heart of the action unfolds on the beaches, as is the tradition every year.
Be it at Kata, Layan, Bangtao, Kamala, Nai Thon, Karon, or Nai Yang, many resorts and restaurants present special menus. However, it's worth noting that prices are substantially higher, with a significant mark-up for this special day!
Phuket is an ideal destination for celebrating the New Year. Iconic venues like Paradise Beach, Café del Mar, and Paradise Complex are hosting special programs for the occasion.
Christmas in Chiang Mai
Christmas in Chiang Mai lacks the grand festivals found in the capital and, in general, the celebrations are less numerous and festive. Nevertheless, religious services are held.
Despite the relatively subdued atmosphere, many bars and restaurants contribute to the festive spirit by offering special end-of-year menus and lively evenings. Additionally, the main shopping centers embrace the occasion with festive window displays and decorations
Sakon Nakhon Christmas Parade
Sakon Nakhon, a charming town in the beautiful Isan region (Sakon Nakhon), hosts its annual Christmas Star Parade.
Running from the 21st to the 26th of December, the Sakon Nakhon Christmas Parade is a captivating event featuring 200 'floats' adorned with large, multi-colored stars. The parade culminates at Sakon Nakhon Cathedral, where services are consistently scheduled. This stands as one of the most significant events for Catholics in the region.
Christmas Under the Thai Sun: Traditions, Celebrations, and Festivities
Amidst the sunny brilliance of Christmas in Thailand, explore a celebration where the natural colors of the country blend with the enchantment of the season. From sparkling beaches to local traditions, Christmas takes on a unique tropical hue, offering a warm and vibrant gift for all who choose to celebrate here. Whether drawn to the dazzling lights of shopping malls or the authentic festivities of provincial towns, Thailand captivates every visitor, turning Christmas into an unforgettable experience under the tropics.
Dive even deeper into the magic of Thailand by exploring our other comprehensive guides on the site. Uncover the paradisiacal beaches, treasures of the cities, and much more. The adventure continues in the heart of Southeast Asia :