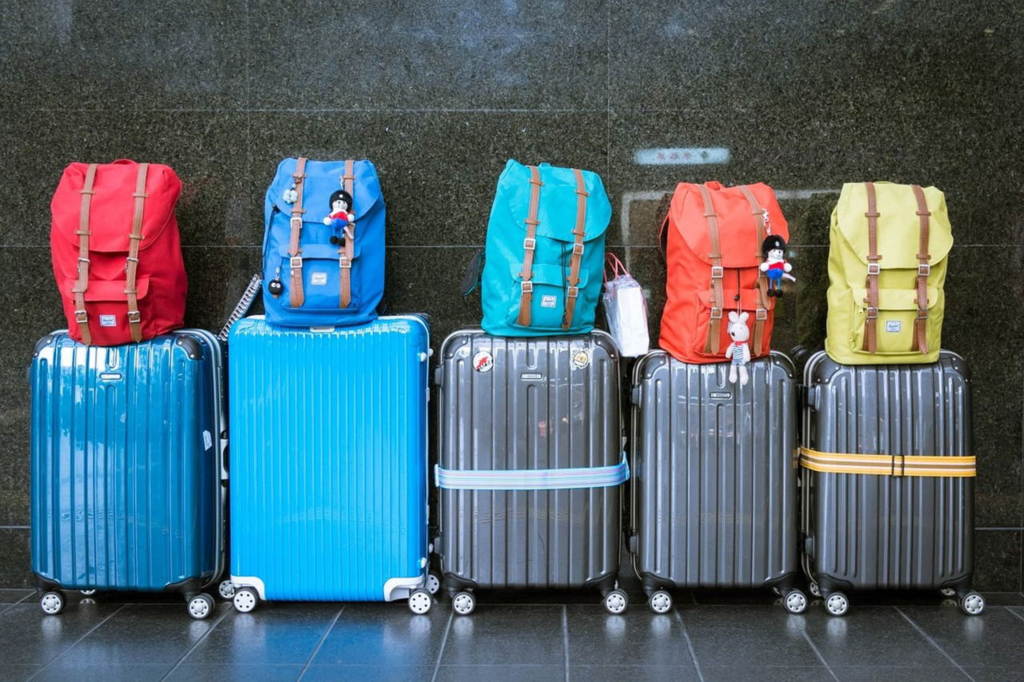 Bag, suitcases, backpack, luggage storage, tips and tricks
What to make of a bag too heavy? Where to deposit it for a few hours or a few days? Take a part of his backpack and leave the other party on luggage storage? How much does it cost ? Practical list to free yourself from a travel bag in Thailand.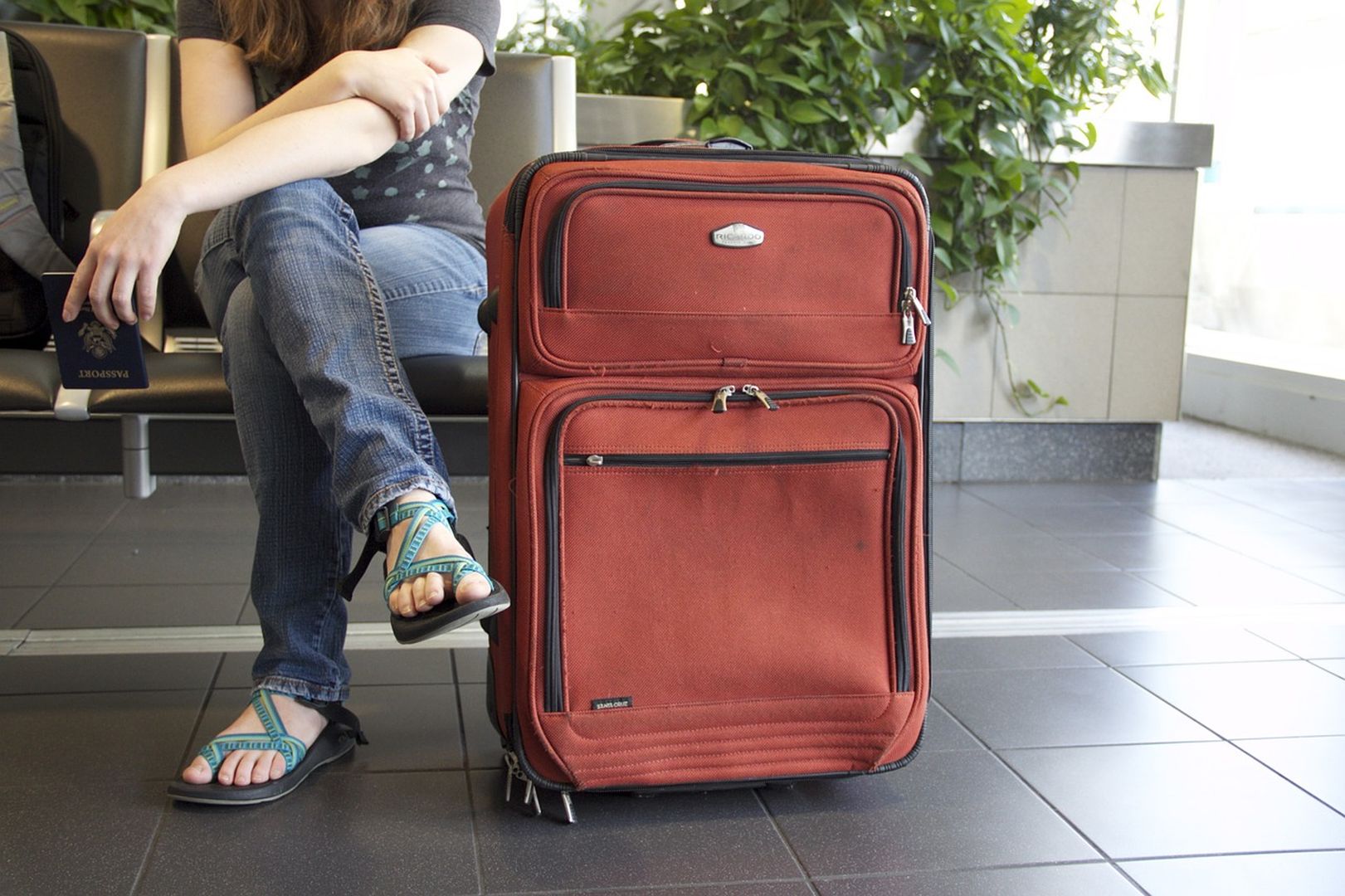 This is a frequent topic for many travelers, what to do with his bag? What can be done when it is too heavy? What to make of his big fragile purchases while there are 15 days or more of travel?
The answer is simple: the deposit!
Deposit yes, but how long? What price ? Where to find them? Are they secure? Etc.
Airport
Suvarnabhumi International Airport
Where ?
There are two places at Suvarnabhumi Airport that serve as luggage storage.
The first is on the left on the 2nd floor in the arrival hall. The second is on the 4th floor in the departure room, behind the check-in desk.
How long and storage costs?
Each item deposited will be charged 100 baht per 24 hour period.
Items stored for more than 24 hours will be charged at 50 baht per 12 hour period.
If the items are filed for more than 3 months (92 days), the tax per 24-hour period is 200 baht per item.
Don Mueang Airport
Where?
Luggage Storage Services are located at Terminal 2, 2nd floor of Don Muang Airport
How long and storage costs?
for a deposit of less than 24 hours, the price is 75 baht per registered item
for a deposit of more than 24 hours, the price is 38 baht for each item every 12 hours
the payment is made at the baggage withdrawal
for a deposit of more than 3 months, the price is 150 baht for each item every 24 hours.
the deposit period can not exceed more than 4 months
beyond 6 months, items are no longer returned
attention some items may be refused due to a potential risk for other items.
Railway stations
All train stations in Thailand have baggage service. The duration ranges from a few hours to a few days. It all depends on the station and the traffic. There are two types of lockers: automatic and old school (a counter, shelves and a ticket with a stamp!).
In any case, the price is very affordable. Security is there… We have never heard of a story related to a robbery at a station. But in any case, you can take a few precautions:
photograph his luggage,
make sure you have the baggage receipt coupon and photograph it,
use a padlocks, etc.
Pay attention to the timetables, the luggage lockers (old school) close early!
Hua Lamphong Railway Station
Hua Lamphong's old train station also has a luggage room. Practical, you can also leave your bag for a few hours or days.
The bus stations
Thailand
The main Thai bus stations have a luggage service. They are much rarer in medium-sized towns. There are usually automated lockers there.
Bangkok
In the three big bus stations of Bangkok, it is possible to deposit luggage. The service is paying:
Ekamai Station has set up automatic lockers
Similarly, the Southern Bus Terminal Bus Station - Sai Tai Mai - also has a counter to drop bags. It is on the ground floor.
The Mo Chit bus station หมอชิต 2 (อาคาร ผู้โดยสาร) also has a place to drop off luggage.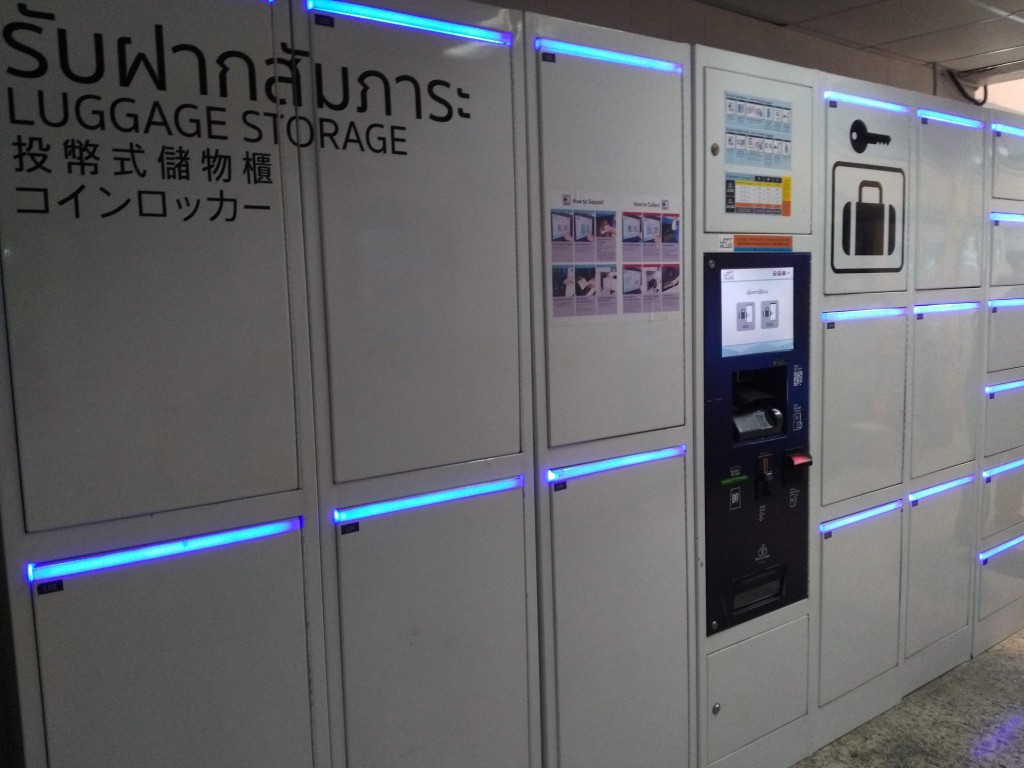 Lock Box luggage instructions at BTS / MRT stations.
There are lock boxes in 14 BTS / MRT stations. They are available 24 hours a day, 7 days a week. 4 languages are available.
The lockers have 4 sizes:
S at 20 baht per hour or 180 baht for 24 hours
M at 30 baht per hour or 240 baht for 24 hours
L to 40 baht per hour or 320 baht for 24 hours
XL at 50 baht per hour or 400 baht for 24 hours
The minimum is 2 hours.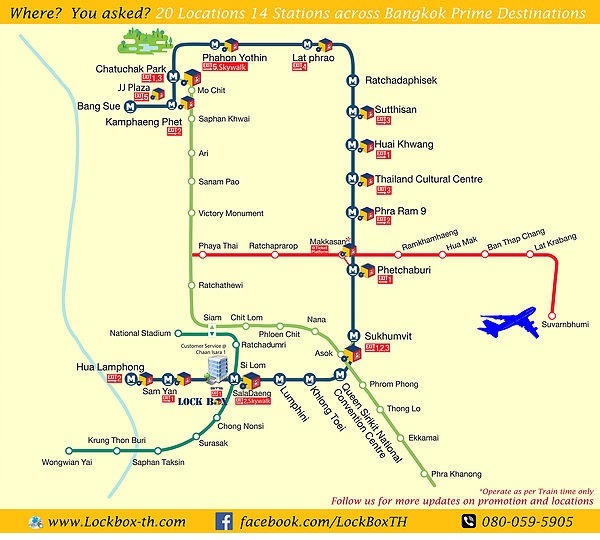 The other possibilities
Many hotels or guesthouses offer this service. For some, it is a free service, for others not … It is then necessary to ask the price and to play the competition!
Private services of specialized companies
Several companies have specialized in this unique activity. Their service goes from the simple suitcase to keep up to the container! Here are two links of recognized companies: http://bangkokselfstorage.com/home and https://www.airportels.asia/
MBK (mall) free but limited
On the 6th Floor Zone B of the MBK Grand Mall - BTS National Stadium - there is a free luggage service.
Open every day from 10:00 to 22:00, it offers to keep your bags for only 24 hours.