Professional advice: renting a scooter or motorbike in Thailand
Renting a scooter or motorbike? Where? How? Which documents? Which insurance? The dangers? Easy or not? On an island yes, but in Bangkok? Questions and answers from a professional scooter and motorbike rental company.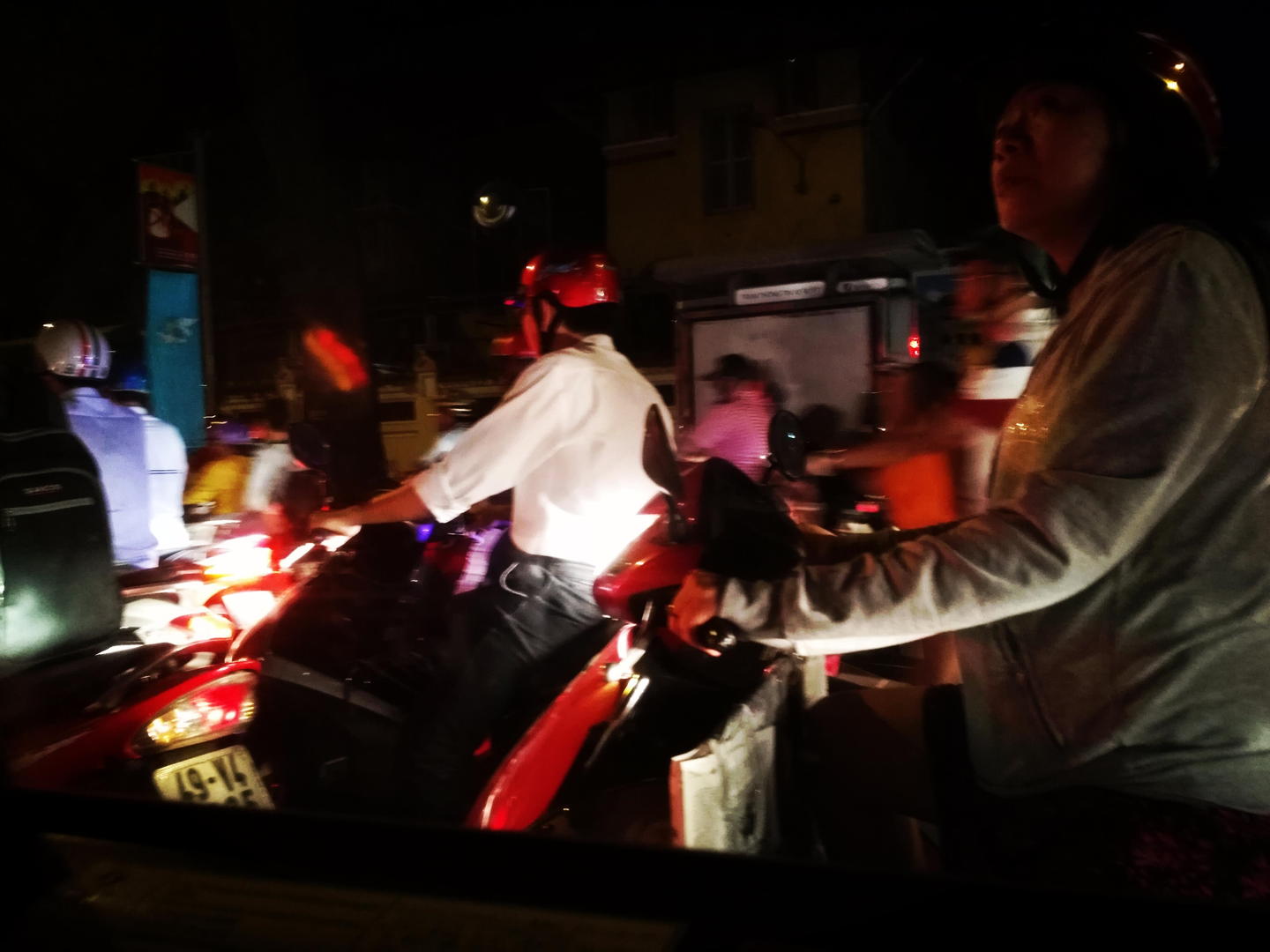 While renting a scooter makes sense for some destinations (islands, for example), renting a motorbike or scooter in Thailand's major cities questions for many travelers. This is the case, for example, in Bangkok. The megalopolis is busy, the traffic is heavy, and the driving can be stressful.
The rental managers or professionals are never very talkative about their business and especially about the rental conditions. However, we found one who did. Benjamin, owner of Rent a Scooter which opened in 2013, shared his rich and instructive experience with us.
What documents are required to rent a scooter?
Benjamin: "To rent a scooter, the mandatory documents are: the original passport (the company keeps a copy). The driving licence is also required. If you have an international or Thai licence, it will entitle you to insurance…
Is insurance necessary?
It is indeed necessary to have an insurance policy before leaving. This must cover the amounts incurred in the event of accidents or personal injury. However, third party insurance is included in the rental price (POLOBO). This is a fee for driving on Thai roads. This micro-insurance covers the driver and the passenger for an amount ranging from 50,000 to 200,000 baths depending on the seriousness of the facts. It is essential to present the international licence or the Thai licence to obtain it. The scooter is never insured, so customers should be very careful.
Is the deposit necessary? How much is it?
The deposit is required in all rental shops in Thailand. It is usually 2000 or 3000 Bath.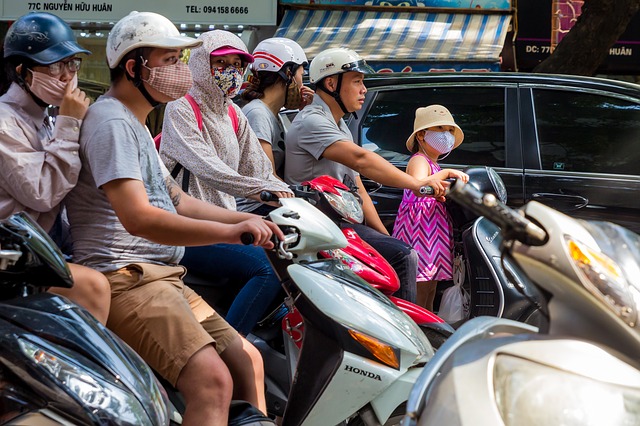 Is it necessary to have a motorbike license to rent a scooter or motorbike?
No, you don't need a motorbike licence to rent a motorbike in Thailand.
What advice can you give?
The advice we can give to people who want to rent a scooter in Thailand is quite simple, but really important:
Check and test the scooter to see if it works properly (brakes, lights, tyres).
We advise you to take pictures of the scooter. Photograph all scratches and damaged parts.
It is important to read the contract carefully and to ask questions if parts of the contract are not understood.
It is necessary to ask about the insurance.
Is the helmet compulsory for the driver? For the passenger?
Yes, helmets are compulsory for the driver and the passenger. The police punish drivers, but are more lenient for the passenger.
How does Thailand differ from Europe?
The first thing to understand and do is to drive on the left. You should also think that the priorities are on your left. It is important to know that when driving in multiple lanes, you should drive in the leftmost lane. Traffic in Bangkok is different and much heavier, but still safe.
Remember to adapt your speed to the situation and it is best to follow the flow of scooter traffic. Streets are easy to spot and remember thanks to the names and main roads.
It is strongly advised against drinking alcohol before driving. The limit is 0.5 minigrams per litre of breath. Above this limit, the driver is taken to the police station for several hours. The driver is then tried by a court. The penalties can be very serious (imprisonment, fine, permanent withdrawal of licence).
For minor offences (not wearing a helmet, not having a driving licence or not driving in the left-hand lane), there is a fine of between 400 and 1000 Bath (to be paid either on the spot or at the police station).
Driving in Bangkok ? Driving in Thailand ?
Bangkok is a city with a lot of traffic. This just means that you have to be careful and alert when driving a scooter. The best advice we can give you is to follow the traffic of other scooter drivers. Be careful when passing cars or buses, as scooters or pedestrians may suddenly appear.
Riding in Bangkok is clearly the most practical and economical way to get around, especially to avoid traffic.
When you leave Bangkok, there is much less traffic and it becomes easier to drive safely. You still need to be careful, as there are no roundabouts in Thailand, but there are 'U-turn' areas to change direction.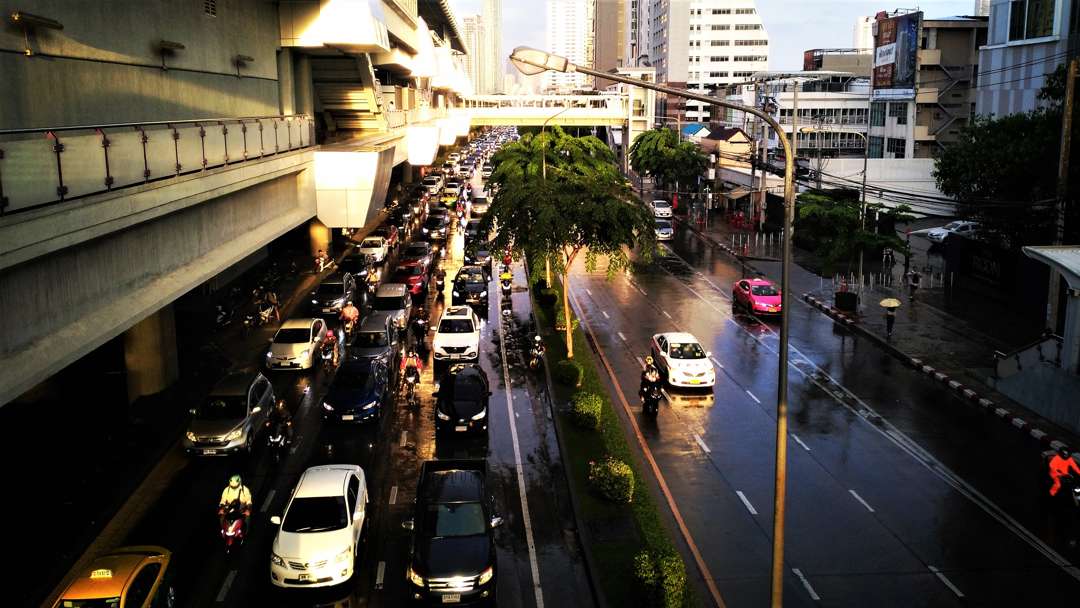 Why rent a scooter or motorbike in Bangkok?
Firstly, you will save money. Public transport (BTS, MRT) is still expensive to use on a daily basis. Moreover, if you want to go to a specific place, you will have to use another means of transport such as a taxi or a motorbike taxi.
Secondly, you will gain in speed compared to a trip by car or taxi. You can leave home later in the morning and return earlier in the evening. Generally, the travel time is halved. By scooter, you can easily overtake cars in long queues. This is not the case with taxis, which get stuck in traffic. Motorbike taxis can be a good solution, but the drivers can sometimes drive too fast.
Finally, you will be free to travel where and when you want without any constraints. If you regularly move from one place to another several times a day, a scooter is ideal. You won't have to wait for a bus or taxi.